A history grounded in a desire to help others
Initially launching as a multi-disciplinary clinic, Bayside Psychotherapy quickly shifted into the mental health field with a strong desire to bring out the best in people. Being ineligible for Medicare rebates at the time, this shift was met with a lot of peer resistance, but we were determined to make it work. We strongly felt that our offerings were (and still are) so valuable and life-changing that clients would be willing to forgo their rebate in exchange for high quality psychotherapy services.
Although rebates are now available through two of our therapists, we continue to receive a high volume of referrals without being dependent on the rebate system. We believe this is testament to our hard work and strong reputation in the psychotherapy field and enjoy working with clients who are just as motivated as us.
Today, we continue to work with people as they overcome fears, become attuned to their feelings, break repetitive negative cycles, and create new life paths. Our team does this in-person at Bayside Psychotherapy's Highett premises, as well as nationally through Telehealth or by phone.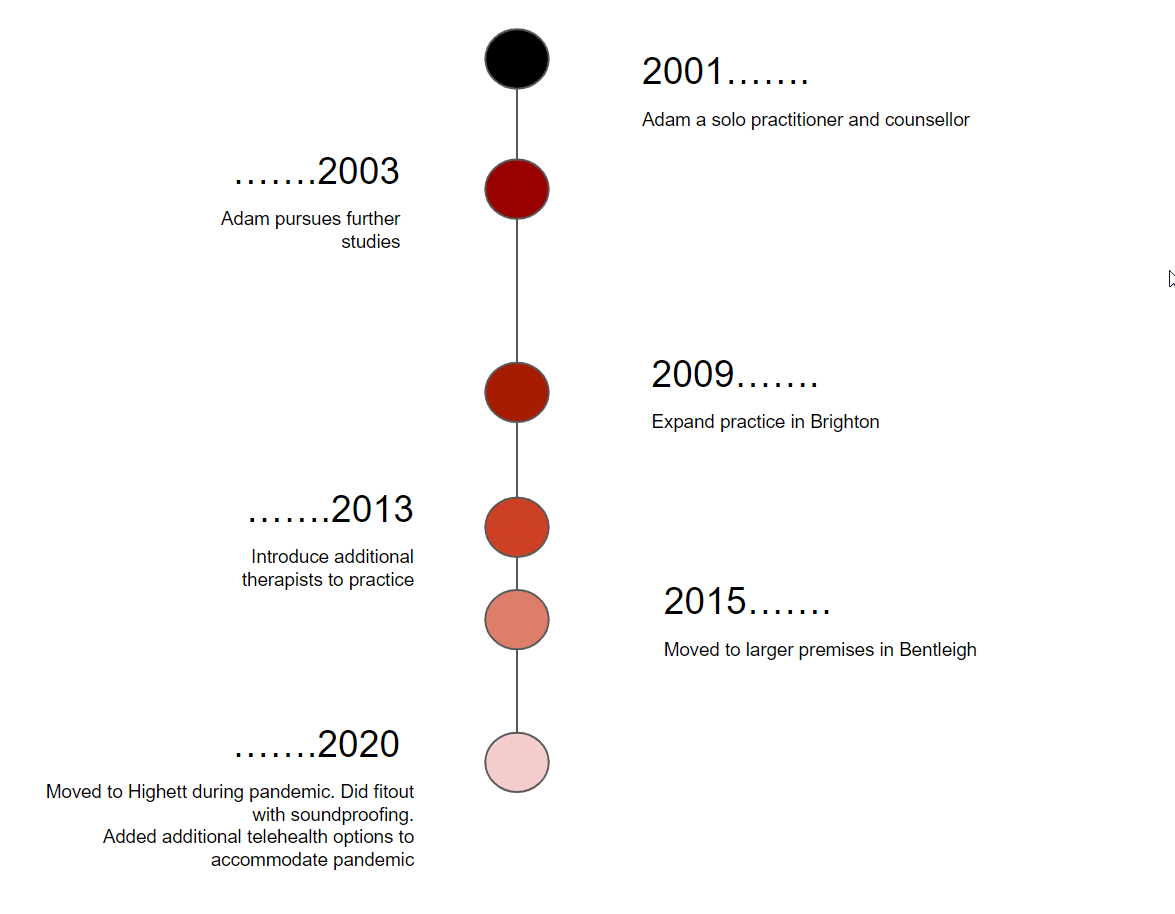 Why choose us?
One size doesn't fit all
Get psychotherapy that's truly tailored to you
You don't need a deep understanding of the human psyche to know that we're all wonderfully unique. That's why your psychotherapy sessions are, too. With a fervent belief that one size does not fit all, we tailor our services around you — your experiences, personality, preferences, comfort level, and emotions. Through it all, we're friendly, empathetic, challenging,  professional, understanding, and informative.
This flexibility doesn't just apply to our sessions. We also have a range of counselling channels, offer easy payment options, and ensure we're convenient to find and visit.
A blend of Western & Eastern therapies
The perfect blend to help you reach your goals
Our solutions aren't limited to inflexible methodologies. We're versed in traditional psychotherapy as well as a wide range of counselling practices in Buddhist psychology, mindfulness therapy, client-centred therapy, insight-oriented psychotherapy, hypnotherapy, NLP, as well as psychoanalytic and psychodynamic theory (depending on which therapist is engaged). Our therapists use this knowledge to customise a therapy program to your individual needs.
We work hard to find the perfect blend for you; one that's ideal in helping you realise and reach your goals. This may take time, but we never give up at the first hurdle or simply refer you to someone else. We're right there with you. That means weaving different counselling approaches together to find what you're most comfortable with and best respond to.
Time to start therapy?
03 9557 9113
Reception phone hours
8:30am – 5:30am
Monday – Friday
(closed on public holidays)
Choose your own date and time for an online or in-clinic session
Therapist Hours
Monday 8:00am to 8:00pm
Tuesday 8:30am to 8:00pm
Wednesday 8:30am to 8:00pm
Thursday 8:30am to 8:00pm
Friday 8:30am to 8:00pm
Saturday 8:00am to 6:00pm