What is Generalised Anxiety Disorder (GAD)?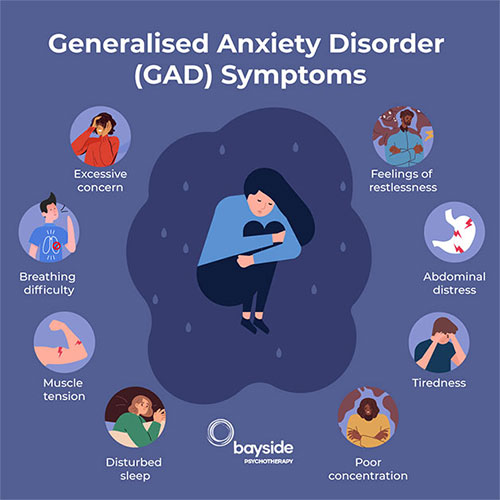 Everyone feels anxious at times. Anxiety can be an incredibly adaptive emotion that keeps us safe from danger. But when anxiety becomes problematic or even debilitating, it's time to seek anxiety treatment. With the help of our psychologists & therapists, it may be possible to make a difference in how you feel and, more importantly, address the cause of your anxiety, which may be an unconscious conflict.
Generalised Anxiety Disorder (GAD) is a common anxiety disorder that involves unrelenting and excessive concern and worry that impairs everyday activity and function. Individuals experiencing GAD frequently report their thoughts being preoccupied with fear or concerns about job performance and responsibilities, relationships, health or even more minor matters such as errands and appointments. In addition to these thinking processes, GAD can produce body-based symptoms such as muscle tension, disturbed sleep, feelings of restlessness, tiredness and poor concentration. While intermittent periods of anxiety are not uncommon, it may be worthwhile to seek professional assistance and evaluation if the anxiety lasts for more than a few months. GAD can interfere with our ability to enjoy life, be present in our relationships, and be efficient in our work and daily life activities.
The trained psychotherapists at Bayside Psychotherapy will work with you to help address the anxiety in your life. We will endeavour to work collaboratively and safely together.
How To Treat Generalised Anxiety Disorder (GAD)?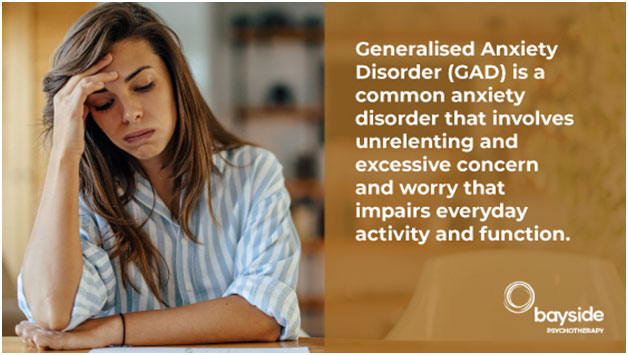 Treatment for GAD may involve a combination of talking therapy (counselling or psychotherapy) and medication. Evidence-based psychological intervention includes cognitive behaviour therapy (Andrews et al 2018.) In CBT, individuals are educated about how their thought processes influence their emotional state and behaviour or action. They are guided through a series of exercises to explore their thought processes and identify distortions or errors fuelling their anxious thoughts. Once these have been identified and analysed, the client and therapist collaborate to create different ideas and thoughts.
Psychodynamic psychotherapy is a talking therapy that seeks to explore deeper or ingrained origins of psychological difficulties that emphasise unconscious processes. Psychodynamic psychotherapy may not regard GAD simply as a discrete symptom or disorder.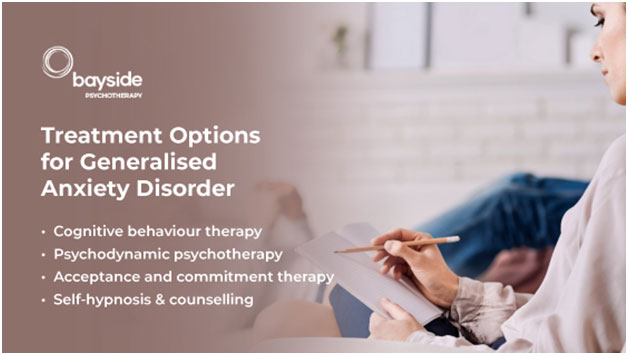 Acceptance and commitment therapy (ACT) is a third wave approach with a strong focus on mindfulness, unhooking from unhelpful thoughts or creating suffering and making decisions based on what is deeply important to each individual. It also encourages one to approach difficult internal experiences to become less fearful of thoughts and emotions and more skilled at managing them.
Please note that medication can at times be an essential component of anxiety treatment; however, the clinicians at Bayside Psychotherapy cannot prescribe or provide specific advice about medication. These discussions are best held with your GP or psychiatrist.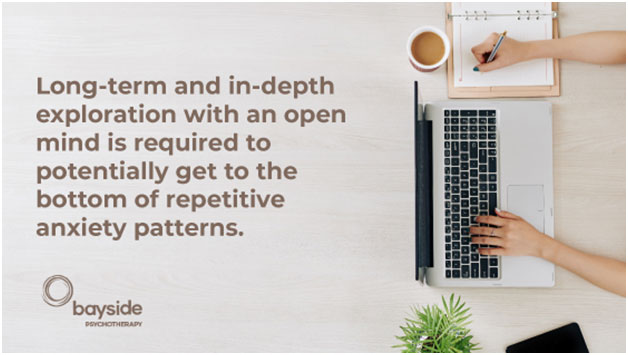 If you are looking for anxiety disorder treatment in Melbourne or online, call us on (03) 9557 9113 or use our contact form to enquire. You can also book an appointment by using our online booking form for online appointments. Or, if you prefer, you can book an in-clinic session with our therapists in Melbourne.
Self-hypnosis may also work well when used in conjunction with counselling. You can download our General Anxiety Self Hypnosis recording from our website.
Frequently Asked Questions
How Does Having Anxiety Feel?
One of the most common symptoms of an anxiety disorder is excessive worrying, which can be about anything from small daily matters to more significant life events. Excessive worrying is a trademark of anxiety disorder, especially if it is severe enough to interfere with everyday life and persists almost daily for at least six months.
Other common feelings of anxiety include rapid heartbeat, shaking, dry mouth and sweating. People with anxiety disorders may have these feelings for extended periods. It can be highly distressing and uncomfortable, and consequently, people with anxiety disorders often avoid situations where these symptoms might occur. Many of the physical signs of anxiety are similar to those experienced during a panic attack (but with less intensity).
What Are The Treatment Options For Anxiety Disorder?
All treatment is uniquely tailored. If you see a hypnotherapist at our clinic, they will be as thorough as possible to ensure ethical and safe practices are only administered. If anxiety is more situational and/or temporary, some counselling sessions may be all that is required. Alternatively, you may seek to explore the cause of repetitious anxiety by delving deeply into the source of your anxiety patterns with psychoanalytic psychotherapy.
Call us on (03) 9557 9113 to book your confidential appointment, or use our contact form to enquire. 
When Can I Expect to Feel Better?
Feeling better and getting better is not necessarily equated. Others feel worse before feeling better as core issues are approached. Sometimes talking in a safe and open space may help individuals begin to manage their difficulties over a few weeks or months. More often, longer-term and in-depth exploration with an open mind is required to potentially get to the bottom of repetitive anxiety patterns. We can discuss this during your initial session since no two treatments are the same.
How Do You Approach Anxiety Treatment at Bayside Psychotherapy?
A number of treatment options are available to you at Bayside Psychotherapy. Rather than use a uniform approach to patient's needs, our therapists tailor their approach to your unique situation. We may use a combination of treatments to help you manage GAD and feelings of panic. A hypnosis MP3 download may also help compliment sessions, such as the General Anxiety Self Hypnosis mp3 recording.
The method applied depends on what you are drawn to, what is most appropriate and who your therapist is. Please feel free to bring all of your questions to the initial consultation.
Call Bayside Psychotherapy on (03) 9557 9113 to find out if we are able to help or, if you are ready to begin, you can make an appointment for face-to-face or online counselling.
Note: This information is informative only and is not to be used for diagnosis or substitution of appropriate assessment and/or treatment by a registered practitioner.
Time to start therapy?
03 9557 9113
Reception phone hours
8:30am – 5:30am
Monday – Friday
(closed on public holidays)
Choose your own date and time for an online or in-clinic session
Therapist Hours
Monday 8:00am to 8:00pm
Tuesday 8:30am to 8:00pm
Wednesday 8:30am to 8:00pm
Thursday 8:30am to 8:00pm
Friday 8:30am to 8:00pm
Saturday 8:00am to 6:00pm