What is Binge Eating Disorder?
"Eating disorders are estimated to affect approximately 9% of the Australian population." National Eating Disorders Collaboration.
Like anorexia nervosa and bulimia nervosa, binge eating is classified as an eating disorder. Research has found that binge eating is the most common eating disorder in Australia and one of the factors that predispose individuals to obesity.
Binge eating disorder involves eating a quantity of food that is greater than what most people would consume in a given situation or in a specific timeframe. The individual often feels out of control while eating, whereby one can't stop or limit their food intake. Individuals with binge eating difficulties may report eating quickly, eating when not physically hungry, and overeating to the point of experiencing physical discomfort. The binge eating episode is often completed alone or in secret owing to shame and tends to be followed by feelings of guilt, depression and shame.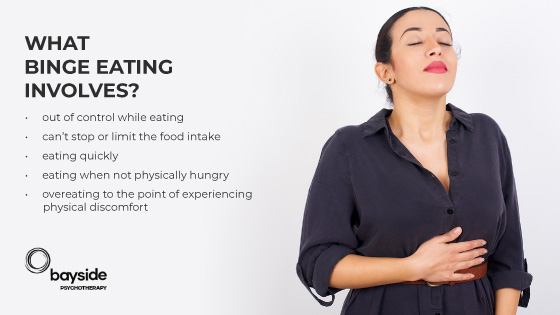 What Triggers Binge Eating?
Binge eating episodes are commonly triggered by unpleasant emotions, interpersonal stress, and restricted food intake. Individuals with binge eating can also struggle with other mental health difficulties such as anxiety, depression and substance use disorders.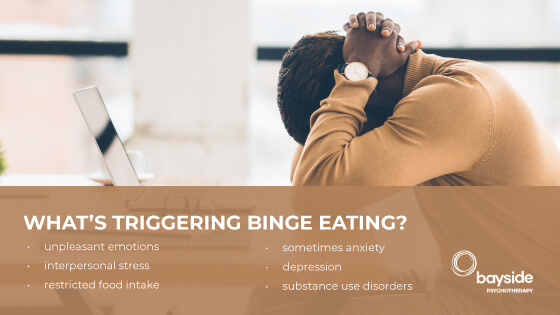 Do you have any questions for us? Get in touch with us through our online contact form.
Call Bayside Psychotherapy on (03) 9557 9113 to find out if we're able to help you. Your call is completely confidential, and there's absolutely no obligation.
You can also book an appointment by using our online booking form for online appointments. Or, if you prefer, you can book an in-clinic session.
Self-hypnosis may also work well when used in conjunction with counselling. You can download our Binge Eating Self Hypnosis recording from our website.
Binge Eating Disorder – Frequently Asked Questions
Do I Have a Binge Eating Disorder?
Everyone overeats, whether it's polishing off a box of popcorn during a movie or having three large dinner plates at a buffet. However, there's a big difference between the occasional splurge and BED. 
Finishing off an entire tray of chocolate biscuits while watching your favourite TV programme is usually associated with mindless eating. Because you aren't compelled to consume the whole tray, you also don't feel like you can't stop eating it – you usually don't realise what you're doing at the time. Someone with BED will feel the NEED to eat all the biscuits. They'll also binge regularly, eat a large amount of food in a short amount of time while feeling like they can't stop or control how much they're eating. 
If you think you have a binge eating problem, contact us today by calling 03) 9557 9113 or using our contact form to inquire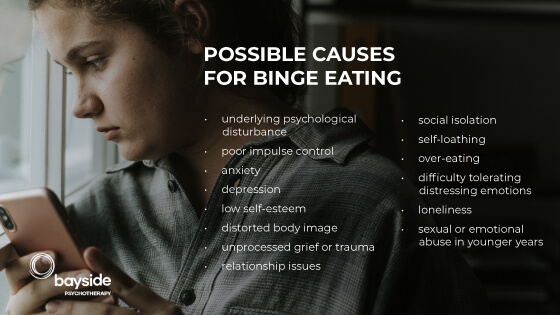 What Are The Symptoms Of Binge Eating Disorder?
Common reasons for developing symptoms of an eating disorder usually involve an underlying psychological disturbance, with symptoms such as poor impulse control, anxiety, depression, low self-esteem, distorted body image, unprocessed grief or trauma, to name a few. Other causes may be relationship issues, social isolation, self-loathing, over-eating, difficulty tolerating distressing emotions that you did not master during childhood, and loneliness.
Associated problems can include digestive complaints, guilt, shame, joint pain and degeneration, self-hatred, fatigue, depression and more. Eating problems are also common in individuals who experienced sexual or emotional abuse in their younger years.
Can Binge Eating Be Dangerous?
Binge eating can turn into a vicious cycle because, more often than not, the binge eater will realize their eating habits are not normal, or they'll find themselves gaining a lot of weight. They'll try to control their calorie intake by dieting or going to the gym and exercising. But in trying to reduce their calorie intake, the individual is left feeling hungry, leading to an increase in binge eating.
When people binge eat, their actions are beyond their control, and it is very much an actual illness. Approximately 3.5% of adult women and 2% of adult men suffer from binge eating disorders. 
Binge eaters tend to hide their behaviour from family members and friends because they feel ashamed and embarrassed about what they do when they're in a state of binging. This can lead to emotional problems if left untreated.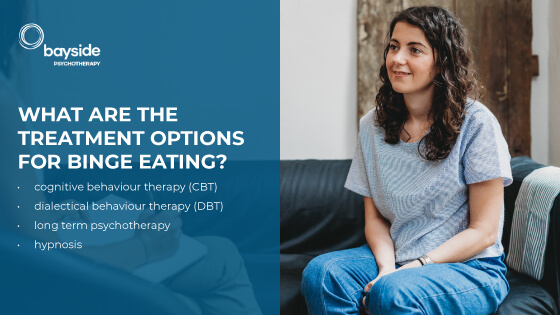 What are Treatment Options for Binge Eating Disorder?
Current best practice guidelines suggest that interventions are drawn from cognitive behaviour therapy (CBT), and dialectical behaviour therapy (DBT) may benefit binge eating disorders. CBT explores the relationship between your thinking, feelings and actions and raises awareness of how this operates as part of an individual's binge eating cycle. DBT is a mindfulness-based approach involving developing skills to promote more effective distress tolerance, emotion regulation and higher relationship satisfaction. If these methods have been attempted, some people choose to participate in the longer term, depth psychotherapy. More severe and enduring cases may require medical or inpatient treatment.
Call us on (03) 9557 9113 or use our contact form to enquire or book your confidential therapy appointment online.
The trained psychotherapists at Bayside Psychotherapy aim to address eating disorders not as simple food issues but at the level of particular thoughts and feelings which give rise to eating difficulties. Such contributing thoughts are not always obvious or even conscious at first. Our methods come from extensive experience with many patients and are based on several treatment options.
In addition to therapy, some self-help resources may complement your therapy sessions.
Binge eating therapy sessions can be conducted securely online by video conferencing software, and can easily be booked online.
There's also the option to come into our Highett clinic for your appointment.
Note: This information is informative only and is not to be used for diagnosis or substitution of appropriate assessment and/or treatment by a registered practitioner. Information on this page and our entire site should not be construed as implying that our therapists are specialists in treating any condition whatsoever. While some of our therapists may have experience working with people suffering from a specific condition, not all of our therapists do. We do not guarantee any particular level of performance, cure or management of symptoms. Each case is unique and responds differently with collaboration between client and therapist being crucial. Always seek appropriate assessment from a qualified professional such as a GP, psychiatrist, clinical psychologist or social worker especially if you are acutely distressed.
Here are a couple of blogs written on this topic you might find useful:
7 Tips To Break Away From Binge Eating
Binge Eating Counselling, Psychotherapy and Hypnotherapy
Time to start therapy?
03 9557 9113
Reception phone hours
8:30am – 5:30am
Monday – Friday
(closed on public holidays)
Choose your own date and time for an online or in-clinic session
Therapist Hours
Monday 8:00am to 8:00pm
Tuesday 8:30am to 8:00pm
Wednesday 8:30am to 8:00pm
Thursday 8:30am to 8:00pm
Friday 8:30am to 8:00pm
Saturday 8:00am to 6:00pm