Online Counselling & Therapy
Therapy is all about you. So it makes sense that you should choose the format.
At Bayside, we offer both online sessions and face-to-face sessions. The most important thing is that you choose the format you're most comfortable with. To help you do that, here's a rundown of each:
Online therapy – Therapy in the comfort of your own home
In today's busy world, with fast internet speeds, a laptop in every home, a phone in every pocket and dozens of video chat tools available, online therapy isn't just possible, it's the most convenient approach for many patients.
More importantly, it may also be a more effective approach for some.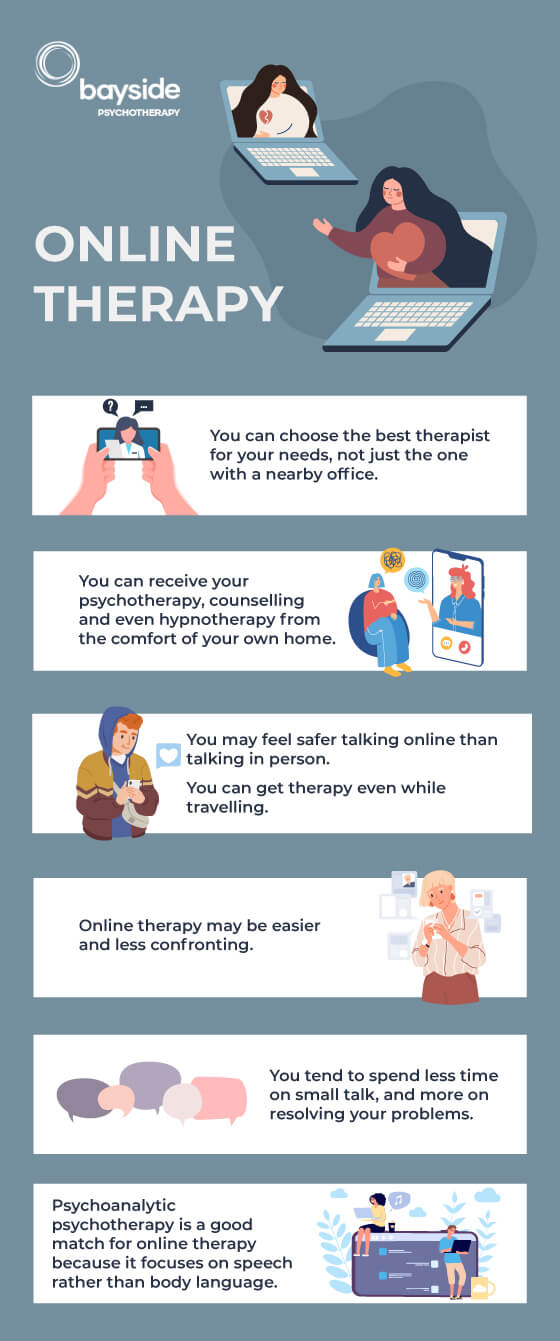 What we like about online therapy
You can choose the best

therapist

for your needs, not just the one with a nearby office.

You can receive your psychotherapy, counselling and even hypnotherapy from the comfort of your own home. No travel time, no traffic or parking worries, no public transport woes, no judgmental receptionists or waiting rooms, and no uncomfortable chairs or too-cold air-conditioning.

Many people feel safer talking online than talking in person. Opening up and sharing yourself – which are essential for healing – can be easier through online therapy sessions.

You can get therapy even while travelling (e.g. on a stressful business trip).

Online therapy may be easier and less confronting if your needs are linked to physical problems (e.g. surgery, injury, disability, body image issues).

You tend to spend less time on social 'niceties' and small talk, and more on resolving your problems.

Psychoanalytic psychotherapy

is a good match for online therapy because it focuses on speech rather than body language.
How does online counselling work?
It's as simple as clicking a link. Truly.
STEP 1: You choose the date and time, and book online. Or call reception on 03 9557 9113 to book.
STEP 2: Choose between phone, Skype, Zoom or Doxy*; We simply add you to Skype or send you a link to a Zoom or Doxy meeting. (Note, however, Adam currently only uses Doxy).
STEP 3: When it's time for your session, you grab a cuppa and click the link to join an online meeting between you and your therapist. You can see and hear them, and they can see and hear you. It's basically the same as being in a room with them.
STEP 4: You can even send each other text chat messages within the meeting.
STEP 5: When your session's over, you click to leave the meeting, and you can immediately get back to whatever you were doing before.
*Zoom and Doxy are free and easy-to-use encrypted video conferencing tools that don't require you to download an app.
We've been doing online therapy since 2008
We're professionally qualified, certified counsellors and psychotherapists, and we've been doing online counselling since 2008. (We were even featured in a Sydney Morning Herald article about online counselling in 2015.)
Won't I lose some of the rapport and connection with my therapist?
This is a subjective assumption not commonly reported at scale. In fact, following telehealth therapy many patients report feeling freer to speak openly via an online medium.
That said, it is absolutely crucial to speak directly with your therapist about your experience as you adapt to the online therapy model, so he or she may address any challenges together with you.
Online Counselling & Therapy Is Private & Confidential
Naturally, we treat all your sessions – online or off – with complete confidentiality. And we only use video conferencing tools that are encrypted and secure.
It's also important that you ensure you have privacy during your session, by choosing a time when no one else is at home or doing your session in a room where you have complete privacy. You might also want to use headphones during your online therapy sessions so less of your conversation can be overheard by others in your home. (This usually improves audio quality too.)
Quality
Please try to select a space in your home that has a good, strong Wifi signal. And turn off all other screens and applications on your device during the call, to reduce disruptions and quality issues.
Other considerations
Remember also that, because it's a video chat, your therapist will see parts of your home in the background. If you're not comfortable with this, choose a space with nothing personal in the background. Or choose one of the custom backgrounds from the platform you're using. (That said, you always have full control over the video camera and can turn it off at any time.)
Finally, you should dress as you would for a face-to-face counselling session. And have a box of tissues and a glass of water close by.
Questions about online therapy?
Call Bayside Psychotherapy on (03) 9557 9113, or use our contact form to ask for more information. Your questions will remain completely confidential, and there's absolutely no obligation.
Book an online therapy session today
As long as you have a private space, you may benefit from sessions anywhere without having to travel or worry about parking. Book an initial session online or call 03 9557 9113 now.