Are you trying to find out if you need couples counselling or couples therapy services?
If you are concerned about your relationship and both partners are willing participants, then professional assistance in the form of relationship therapy or couples counselling is worth considering. Perhaps you are pondering separating or staying together. Perhaps you or your spouse have been having an affair and are wondering if such a rupture is repairable. Perhaps you feel that you've suddenly woken up and don't recognise the person you have shared your life with. Or perhaps your partner is behaving in a way that is making you feel emotionally unsafe in your relationship.
Our relationship therapists provide in person (Highett, Melbourne) or online counselling sessions that promote non-critical dialogue between partners, reflection and deeper understanding. 
Relationship problems are stressful. They can wreak havoc not only within the relationship itself, but on our own sense of well being and self-esteem, and on our ability to enjoy work, recreation, family and other relationships.
You're not alone – Our Melbourne Relationship Counsellors Can Help
Relationship problems are very, very common. Engaging in couples or marriage counselling is a brave and important step. Seeking help in the form of couples therapy can make the difference not just between a relationship failing or recovering — but between creating a supportive, nurturing relationship or settling for loneliness and dissatisfaction. It may also help smoothen the way for a healthy separation if that's the path that turns out to be best for you. This is invaluable, especially if there are children involved. Marriage counselling with our therapists in Melbourne (or online) can make a significant difference under such circumstances.
Arguments, heated discussions and hurtful words emerge in most relationships at some point. However, serious problems tend to come about when there is a breakdown in communication over important issues. What qualifies as an important issue? That varies from couple to couple, but some issues that tend to arise include:
Money.

Parenting.

Intimacy and Sex.

Life transitions (including the birth of a child, the death of a parent, unemployment, moving or serious illness).

Relationships with extended families (in-laws, siblings, children from previous marriages etc).
The fuel that can make these issues flare into serious relationship problems is usually an unhealthy style of relating and communicating, such as criticism and score keeping. Each partner comes into the relationship with their own imprinted or acquired ideas about how partnerships operate (often unconsciously). When one or both partners start relating from a rigid, ungenerous standpoint, it is only a matter of time before problems emerge and communication breaks down. Misunderstandings and unmet needs can lead to pain, resentment and estrangement until it can feel impossible to reach out to heal the breach.
Do you have any questions for us? Get in touch with us through our online contact form. 
Call Bayside Psychotherapy on (03) 9557 9113 to find out if we're able to help you with marriage counselling. Your call is completely confidential, and there's absolutely no obligation.
You can also book an appointment for relationship counselling by using our online booking form for online appointments. Or, if you prefer, you can book an in-clinic session. 
Could relationship counselling work for you?
If you've reached a point in your relationship where you can't resolve an impasse, and communication has broken down, couples therapy maybe your best option to move forward.
Here is what you can expect in a relationship counselling session:
Your counsellor will listen to both parties in an empathic, non-judgemental way.

Your counsellor will encourage you to speak openly and honestly in a way that is emotionally safe for all parties.

Your counsellor will concentrate on identifying patterns of communication and relating that are interfering in the resolution of anger, hurt, frustration and other negative emotions.

Your counsellor will use evidence-based approaches that may help you move forward so your relationship can evolve into a more mutually rewarding and enriching partnership.

Your counsellor may be able to identify issues that are damaging the relationship that requires individual counselling. This may include anger management, binge drinking, substance abuse, addiction to pornography, compulsive lying or unresolved trauma and loss, among others.

Your counsellor will endeavour to uncover what each side actually wants to achieve, which is sometimes unclear at the outset, in order to lay the grounds for either a sound reconciliation or a peaceful parting.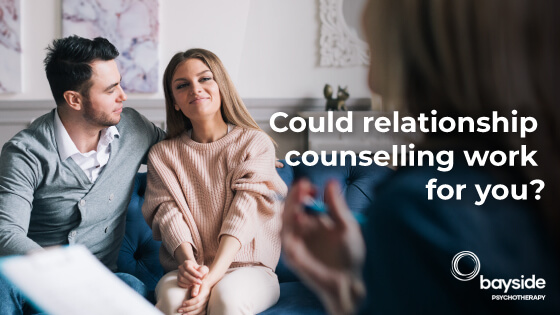 Here at Bayside Psychotherapy, we have a number of counsellors and therapists with solid experience in the delicate task of relationship counselling, who are well qualified to potentially help you get back on track to a thriving, loving relationship. We are an LGBTQI-friendly practice and happy to work with people in all kinds of relationships. Sessions can be held either online or face-to-face at our Highett clinic, depending on your preference and which therapist you see.
How much longer can you endure the strain of an unhappy relationship?
Give us a call on (03) 9557 9113, or use our contact form to make an appointment for an online session or if you are in Melbourne we can do an in-clinic session.
Why does communication between couples break down?
At the start of a relationship (the "honeymoon period"), we idealise our partners. We think they are the most wonderful person in the world, who will do anything for us. The rosy hormonal glow can create such an inflated view that we downplay, or overlook, their flaws. Perspectives, habits or ideas that might normally raise red flags can seem inconsequential.
Over time, we begin to realise that those little flaws that never bothered us before are becoming more and more aggravating. Sometimes, our partner may be inconsiderate, and in fact, can seem quite selfish — not to mention boring and wrong-headed. If you don't find a way to resolve these inevitable ruptures, they can grow to eclipse all the things that attracted you to your partner in the first place. Resentment, anger and hurt can fester away, silently eroding the goodwill in the relationship.
Eventually, conditions can deteriorate to the point that both partners are more invested in proving themselves right and their partners wrong than anything else. Each partner shuts the other out in various ways, and there is a loss of trust, love and spontaneous, playful engagement.
In other words, self-preservation becomes more important than connection. At this point, it is essential to eliminate blaming, shaming and naming. It may be difficult to work through the layers of hurt and dysfunction without outside assistance.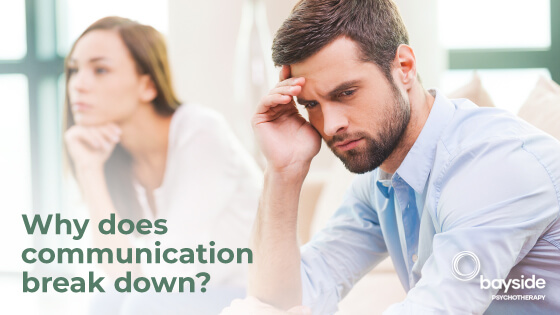 Call Bayside Psychotherapy on 9557 9113 to see how our marriage or couples counselling could help you, or book online. All calls are confidential and there is no obligation to proceed.
Your therapist will not assume that the quieter person's point of view is less important or that they don't have one, and will certainly not take sides or prefer one person's way of communicating over the other.
FAQ About Couples Counselling
What happens in a typical relationship counselling session?
If you find your relationship has come to a point that requires intervention, whether due to money concerns, parenting beliefs, the birth of a child, the loss of a family member, sex and intimacy, individual wants and needs, work/life balance, or anything else, Bayside is here to help.
A typical online or in-person relationship counselling session may involve your counsellor listen to both parties in an empathic and non-judgemental manner as you work together to unpack your grievances. You will both be encouraged to speak candidly and sincerely, in an environment that has been made emotionally safe for both of you. You may be helped to uncover communication patterns and love languages, and your counsellor may help to highlight how these common differences may translate to anger, resentment, hurt, or other emotions that have an adverse effect on your relationship. During your counselling sessions, your counsellor will endeavour to help you to move forward together to accomplish an equally satisfying and deeper relationship with your partner.
Does Bayside Psychotherapy offer individual counselling sessions?
Yes – whilst engaged in couples and marriage counselling, your counsellor may identify issues with one individual that may be affecting the relationship. Issues such as anger management, excessive drinking, pornography addiction, compulsive lying, and unresolved trauma and loss may all contribute to this and may be carefully identified by your counsellor. From there, you will be invited to engage in individual counselling sessions to help you work through and overcome such concerns in a safe, private, and confidential space.
Will Bayside Psychotherapy take one partner's side over the other?
Absolutely not, our highly trained couples and marriage counsellors are there to remain neutral and supportive of the relationship and of you both. Whilst they may ask fact-finding questions to delve deeper into your concerns, your counsellor is there to listen as you both work through a range of emotions, questions, and worries. If one partner is finding it harder to talk than the other, your therapist will suggest ways to help both of you communicate and create a safe listening space without naming, shaming, blaming or criticism.
Can I come on my own without my partner?
We believe in tailoring sessions according to our clients' needs. If you feel more comfortable not attending with your partner, we are happy for this to happen. We recommend speaking to your psychotherapist first to get their transparent opinion on the best approach. However if individual communication with your couples counsellor occurs they will not keep anything hidden from your partner. Often times couples engage in therapy together and have a different therapist for individual counselling or therapy.
Here are a couple of blogs written on this topic you might find useful:
Couples Counselling An Essential Circuit Breaker For Working From Home And Relationship Stress
Meet Our Professional Therapists
Note: Whilst we will do our best to assist you, we rely upon your commitment to and participation in the treatment process to optimise results. Although some of our therapists have experience with couples therapy, no guarantees of any outcomes can be made.
Time to start therapy?
03 9557 9113
Reception phone hours
8:30am – 5:30am
Monday – Friday
(closed on public holidays)
Choose your own date and time for an online or in-clinic session
Therapist Hours
Monday 8:00am to 8:00pm
Tuesday 8:30am to 8:00pm
Wednesday 8:30am to 8:00pm
Thursday 8:30am to 8:00pm
Friday 8:30am to 8:00pm
Saturday 8:00am to 6:00pm