Physical Signs of Anxiety Infographic
There are times when we don't always recognise our feelings and it is very easy to forget that anxiety has physical effects too.
When we can identify these signs it becomes easier to tell if you are experiencing anxiety and move towards a mindful solution, which is why we have put together this guide to the physical signs of anxiety.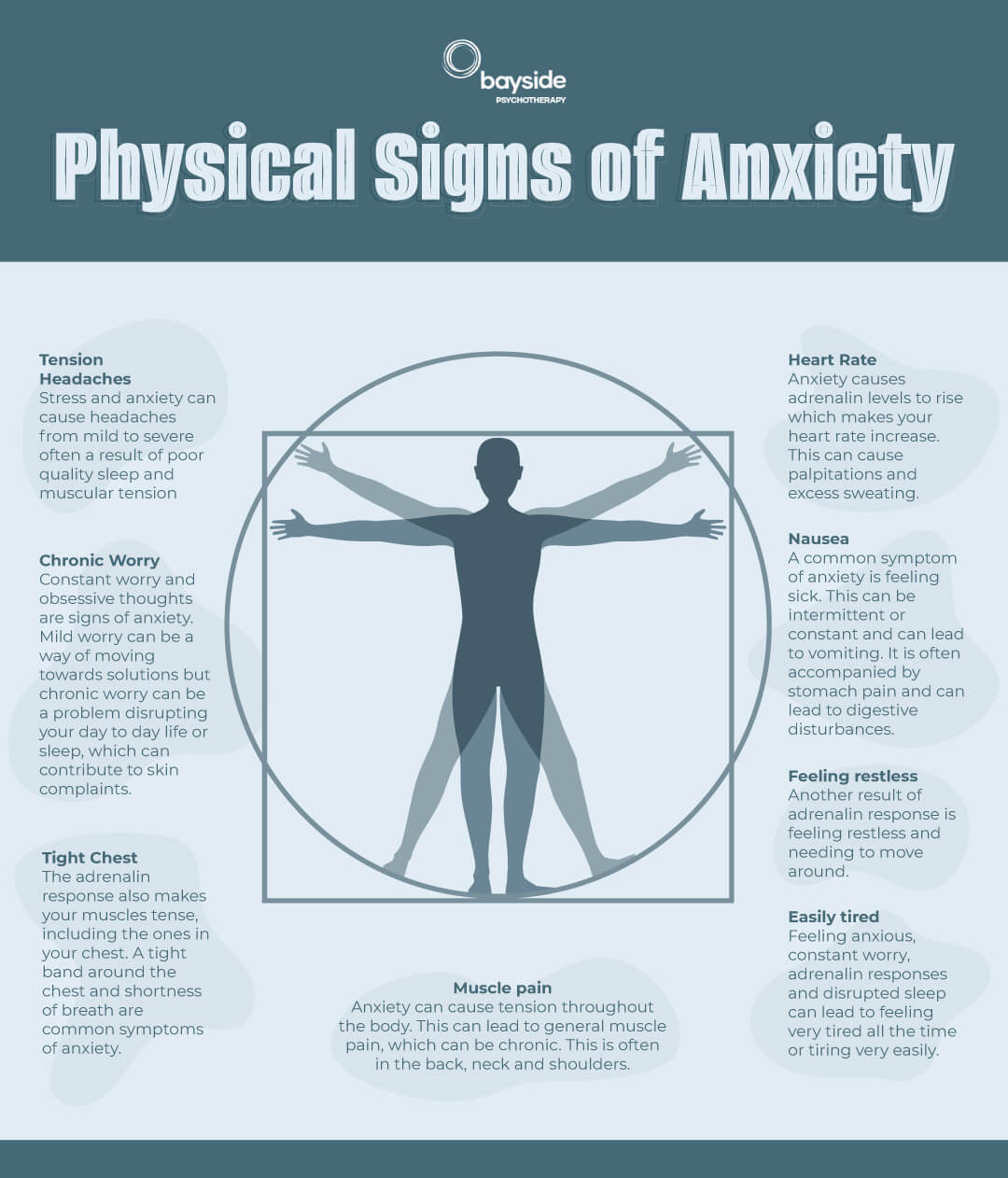 This post is part of our Anxiety Awareness Campaign at Bayside Psychotherapy; if you'd like to learn more statistics about how many people live with anxiety you can do so here. We want to help spread an understanding of anxiety and those who experience it in their everyday lives. Whilst each case of anxiety is unique, through sharing knowledge sharing and talking about it the issue we hope to develop a community of people who can help each other.
Physical Signs of Anxiety
Tension Headaches
Stress and anxiety can cause headaches from mild to severe often a result of poor quality sleep and muscular tension
Chronic Worry
Constant worry and obsessive thoughts are sign of anxiety. Mild worry can be a way of moving towards solutions but chronic worry can be a problem disrupting your day to day life or sleep, which can contribute to skin complaints.
Tight Chest
The adrenalin response also makes your muscles tense, including the ones in your chest. A tight band around the chest and shortness of breath are common symptom of anxiety.
Muscle pain
Anxiety can cause tension throughout the body. This can lead to general muscle pain, which can be chronic. This is often in the back, neck and shoulders.
Easity tired
Feeling anxious, constant worry, adrenalin responses and disrupted sleep can lead to feeling very tired all the time or tiring very easily.
Tension Headaches
Stress and anxiety can cause headaches from mild to severe, often a result of poor quality sleep and muscle tension.
Heart Rate
Anxiety causes adrenalin levels to rise which makes your heart rate increase. This can cause palpitations and excess sweating.
Nausea
A common symptom of anxiety is feeling sick. This can be intermittent or constant and can lead to vomiting. It is often accompanied by stomach pain and can lead to digestive disturbances.
Feeling restless
Another result of adrenalin response is feeling restless and needing to move around.
You should never have to go through emotional difficulties and turmoil on your own; we are here to help you. Reach out to us and talk to a qualified mental health therapist today.
Here are a couple of blogs written on this topic you might find useful: