Therapist vs Psychologist? Understanding the basic differences between mental health professionals
Mental health has always been a critically important topic. But it's only recently that a truly conscious effort has been made to openly discuss and raise awareness on the issue.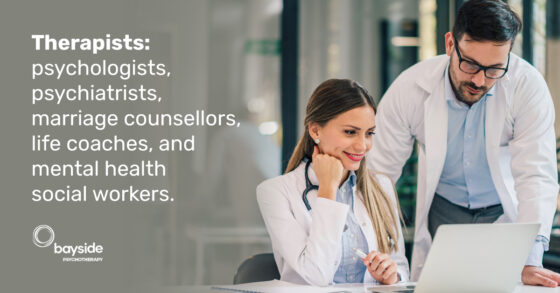 Mental health is a pillar of overall wellbeing, and it cannot be separated from other aspects of health. Mental health issues can have a flow-on effect, impacting the physical health and social relationships and vice-versa. If left untreated, mental health challenges can escalate and have consequences.
Almost all of our actions, thoughts, and behaviours are impacted by our mental state.
Therefore, it is critical to treat any mental health issues as soon as they are identified, and therapy should commence to stabilise behaviours, emotions and thoughts, and then work towards developing awareness and insight.
Actively working to improve one's state of mind can boost productivity and enhance feelings of self-worth, `Improve mood, reduce anxiety and strengthen relationships. Having a solid treatment plan to nurture mental health can not only improve daily functioning but may also assist in managing some of the physical health issues that are directly linked to mental health conditions. For example, depression is often associated with a myriad of physical symptoms, including chronic joint pain, appetite changes and sleep disturbances (1).
An effective way to begin your journey towards improving your mental health is to visit a mental health professional. But which is the best mental health professional to visit? The most common question we get is whether one should see a therapist or a psychologist. So, let's address these two types of specialists to help you decide which one to visit.
What is the difference between a therapist and a psychologist?
If you've been searching for a mental health professional, you may have come across the terms "psychologist" and "therapist". Depending upon a given therapist's or psychologist's training and experience there may be considerable overlap between the two. In other cases, theoretical and practical orientations can vary markedly.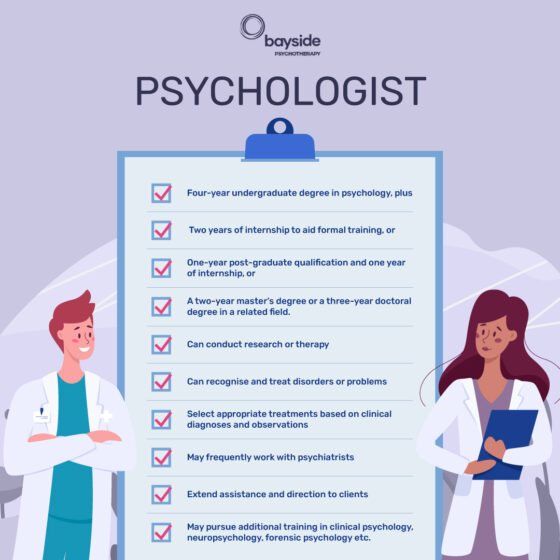 To an extent, psychologists and therapists often receive similar education and training in therapeutic techniques to assist people with their mental health concerns. That said, psychologists and therapists also undergo different training and have different therapeutic approaches. However, both types of specialists have the knowledge to effectively assist clients in bettering their mental health.
Here are some key similarities and differences between psychologists and therapists to help you make the best decision based on your mental health needs.
Education:
Psychologists:
To be eligible for general registration as a psychologist in Australia, psychologists must complete a minimum six years of education and training in psychology. Psychologists in Australia must be registered with the Psychology Board of Australia to be identified as mental health practitioners and treat clients.
A psychologist:
Must have a four-year undergraduate degree in psychology. Along with that, they need one of the following:
Two years of internship to aid formal training, or
One-year post-graduate qualification and one year of internship, or
A two-year master's degree or a three-year doctoral degree in a related field.
Can conduct research or therapy
Can recognise and treat disorders or problems
Select appropriate treatments based on clinical diagnoses and observations
May frequently work with psychiatrists
Extend assistance and direction to clients
May pursue additional training in clinical psychology, neuropsychology, forensic psychology etc.,
Therapists:
In Australia, therapists must complete at least 350 hours of training and 50 hours of supervision for general counselling, as opposed to psychologists who must train for at least six years. However, psychotherapists may undergo over six years of training considering their undergraduate, postgraduate and extended studies in psychoanalytic theory and practice. Given the varied extent of training a psychotherapist may undertake, it is important to clarify with each practitioner the nature and length of their education.
The term therapist is considered more of an umbrella term.
A therapist:
Includes psychologists, psychiatrists, marriage counsellors, life coaches, and mental health social workers.
May hold a Bachelor's degree, PhD, or Masters in social work, clinical psychology, psychiatry or additional certifications in family counselling and other emerging fields in psychology.
Can assist and direct clients to other specialists.
May be generalists with special interests in treating conditions(e.g., anxiety, eating disorders, trauma).
Treatments:
Psychologists:
Psychologists are professionals generally operating within a medical or scientific model but are not required to attend medical school and therefore cannot prescribe medication. However, they often collaborate with a psychiatrist (medical doctor) to prescribe medication where indicated.
Psychologists are skilled at clinical interviews, testing and assessments. They often use talk therapy to identify the root cause of issues stemming from childhood trauma or other impactful life events. The training a psychologist undergoes allows them to diagnose the patient's suspected condition before formulating a treatment plan. A psychologist often collaborates with a patient's GP or psychiatrist.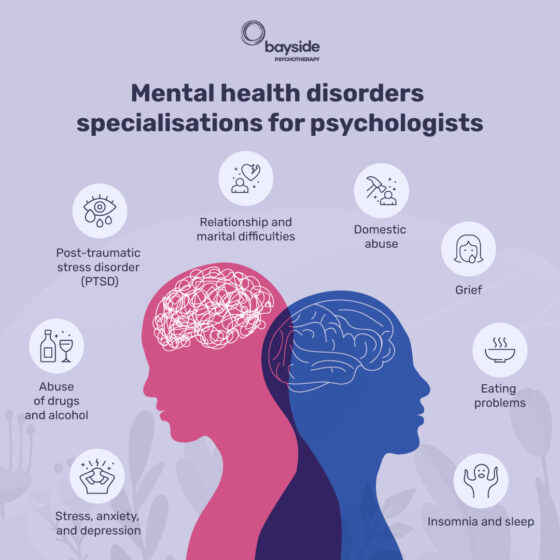 Choosing the correct mental health professional
Psychologists may work with a wide range of mental health disorders, including:
Stress, anxiety, and depression
Misuse of drugs and alcohol
Post-traumatic stress disorder (PTSD)
Relationship and marital difficulties
Domestic abuse
Grief
Eating problems
Insomnia and sleep
A psychologist may also offer Medicare rebates under a GP Mental health care plan whereas counsellors and hypnotherapists cannot. A psychotherapist who is a psychologist or Mental Health Social Worker also offers Medicare rebates.
Therapists:
Counsellors generally work with similar aims to psychologists such as mood and behaviour stabilisation and building here-and-now coping strategies. Psychotherapists on the other hand work with the unconscious, in the longer term to unearth deeper repressed thoughts and conflicts emergent during crucial periods of childhood.
Counsellors and therapists may also provide marriage counselling or addiction therapy. Therapists aim at identifying and resolving issues such as overcoming abuse and eating disorders. Counsellors often approach specific mental health issues by focusing on well-being and improving one's day-to-day life by helping people make better decisions. Treatment may focus on coping mechanisms and emotional management techniques. Counsellors offer support and guidance while assisting patients in making informed decisions within the context of the overall support structure. Like psychotherapists, counsellors are also unable to prescribe medications.
When choosing a therapist, education, licensing, and professional credentials should all be taken into account.
Here is a general overview to help you decide who to schedule an appointment with.
Clinical Psychologists treat specific mental health issues. If you see signs indicating that you may have a mental health problem, seeing a psychologist is a good place to start.
However, seeing a counsellor is another option if you want more general management of a life issue, such as a relationship or career problem. A counsellor will listen to you and help you work through your issues. A psychotherapist on the other hand will aim to help you talk in a way that deepens your self-awareness and tries to resolve deeper inner conflicts over time. Of note, some psychologists also have psychotherapy training though many do not. Psychotherapists with appropriate qualifications and experience may register with PACFA, a peak body with full membership of Allied Health Professions Australia (Allied Health Professions Australia – (ahpa.com.au)). Clearly, the overlap between therapists and psychologists exists in practice, but both have unique skills to offer people that want to help themselves.
While therapy can be intimidating and anxiety-provoking for some, most people adjust and once settled the process can be extremely beneficial. We understand that the hardest part of therapy, like most things, is taking the first step.
But if you or someone you know is facing mental health concerns, our mental health professionals are here for you.
Help us help you take a step towards better mental health.
Here are a couple of blogs written on this topic you might find useful: