What is Night Eating Syndrome?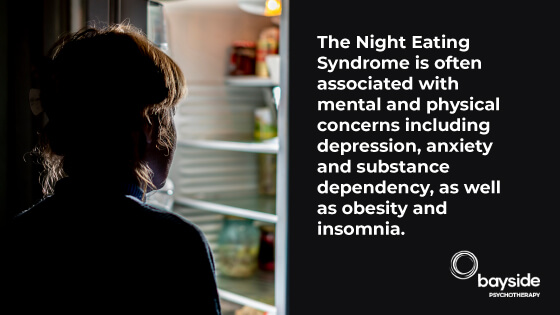 Are you looking for help to work through night eating syndrome? This disorder is distinct from other binge eating or compulsive eating disorders and is often associated with mental and physical concerns including depression, anxiety and substance dependency, as well as obesity and insomnia.
A number of factors can contribute to night eating syndrome and there are various methods of treatment. People who struggle with this eating disorder are often plagued by other emotional problems they may not even be aware of. It's important to address your issues with night eating sooner than later, to ensure it doesn't take a toll on your physical and mental health.
Night eating syndrome can manifest in different ways, but it usually results in a significant amount of a person's food intake taking place overnight, after the evening meal. Individuals may eat once during this period, or wake to eat repeatedly through the night. Some do this because they're trying to overcome binge eating during the daytime, their resolve eroding after a long day of resisting temptations and restricting food intake. Other people may develop the habit during difficult or unsettled periods and struggle to get back into normal rhythms afterwards.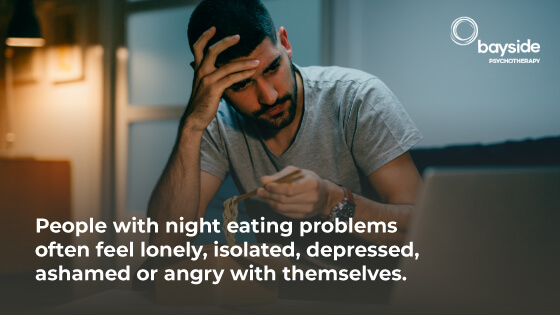 People with night eating syndrome often feel lonely, isolated, depressed, ashamed or angry with themselves. These emotions can create problems in other areas of life, impacting energy levels, relationships, and productivity at work.
Don't let one more night go by with needless eating that's harmful to your body and your state of mind. Call our clinic during business hours on (03) 9557 9113 for more information, or use our online contact form. If you're ready to get started, you can make a confidential appointment online now. We also recommend that you download our Stop Night Eating Self Hypnosis recording to complement your sessions.
For more information, call the clinic during business hours on (03) 9557 9113 to find out if we're able to help you. Your call is completely confidential, and there's absolutely no obligation.
Do you have any questions for us? Get in touch with us through our online contact form.
You can also book an appointment by using our online booking form for online appointments. Or, if you prefer, you can book an in-clinic session.
When it comes to nocturnal eating disorder treatment, Self-hypnosis may also work well when used in conjunction with counselling. You can download our Night Eating Syndrome Self Hypnosis recording from our website.
Frequently Asked Questions
How Can I Stop the Cravings To Eat At Night?
Counselling may be an important tool for addressing this disorder, as well as other food issues, including binge eating, overeating, and comfort eating, any of which may be present with a night eating disorder.
The trained practitioners at Bayside Psychotherapy have experience in addiction counselling, mindfulness therapy, NLP, hypnosis, and other therapies that may help you curb your nocturnal eating — regardless of the causes. You can make an appointment at our Highett clinic in Melbourne, or for a secure online counselling session.
Bayside Psychotherapy also offers a downloadable hypnotherapy recording for night eating syndrome. Self-hypnosis can sometimes be helpful on its own (depending on the severity of your situation), but our counsellors also recommend it as an effective reinforcement for other forms of therapy.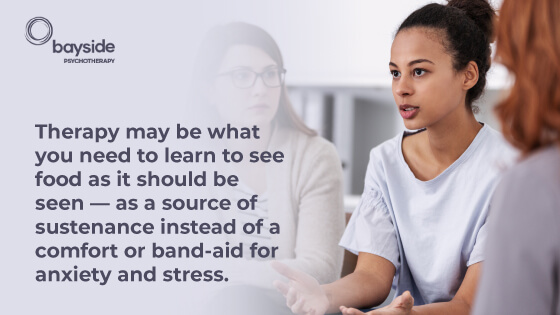 Therapy may be what you need to learn to see food as it should be seen — as a source of sustenance instead of a comfort or band-aid for anxiety and stress. Yes, food can temporarily change your mood, but it can also be very harmful when eaten in excess. If you are having trouble stopping night eating or bingeing on your own, professional help may be useful to you.
Whichever way you decide to get the help you need, be proud of yourself for taking this first step and creating a healthier relationship with food.
Is Night Eating Syndrome a Serious Condition?
The short answer; yes. Night Eating, if left untreated, can become quite harmful to your health. Individuals with night eating syndrome are often obese or overweight, making them susceptible to health problems caused by being overweight, including high blood pressure, diabetes and high cholesterol. 
Individuals with night eating syndrome often have a history of substance abuse and may also suffer from depression. They typically report being more depressed at night. They also frequently have sleep disorders.
Does Nocturnal Eating Disorder Treatment Take Long?
Treatment for any eating issues will vary depending on the individual. Some clients see progress after just a few sessions of Neuro Linguistic programming, for example. NLP aims to change habits and thought patterns consciously and can be used to eliminate addiction and related behaviours. Others require more in-depth treatment. The client's openness and willingness to participate in their therapy will also have a major impact on the duration and success of the treatment.
How Does Bayside Psychotherapy Approach Night Eating Treatment?
At Bayside Psychotherapy, our therapists' diverse training and backgrounds allow us to customise your treatment to your individual needs. With various methods to draw from, your therapist may continuously adjust your program to optimise results. Whether we use NLP, mindfulness therapy, or a combination of several treatments, all your sessions will be conducted in a safe, caring and confidential environment.
Note Whilst we will do our best to assist you, we will rely upon your commitment to and participation in the treatment process to optimise results. Although some of our therapists work with people presenting with this condition, no guarantees of any outcomes can be made.
Time to start therapy?
03 9557 9113
Reception phone hours
8:30am – 5:30am
Monday – Friday
(closed on public holidays)
Choose your own date and time for an online or in-clinic session
Therapist Hours
Monday 8:00am to 8:00pm
Tuesday 8:30am to 8:00pm
Wednesday 8:30am to 8:00pm
Thursday 8:30am to 8:00pm
Friday 8:30am to 8:00pm
Saturday 8:00am to 6:00pm