Sexual problems can be embarrassing and emasculating. And the performance anxiety and negative sexual experiences that happen, often makes the initial issue worse. But you're certainly not alone — and it's possible to get help. Preoccupation with premature ejaculation can put a big strain on your relationships.
Over time, arousal can turn to feelings of shame, resentment, self-loathing, loneliness, and even depression. Suffering from an ejaculation problem often leads to a reduction in sexual activity. If PE is having a serious impact on your life then it may be time to seek therapy for premature ejaculation from qualified sex therapists. Get your sex life back on track with Bayside Psychotherapy.
It's important to rule out any medical causes for your premature orgasm. If your doctor can't find anything physically wrong with your penis or body, it may be time to look into sex counselling.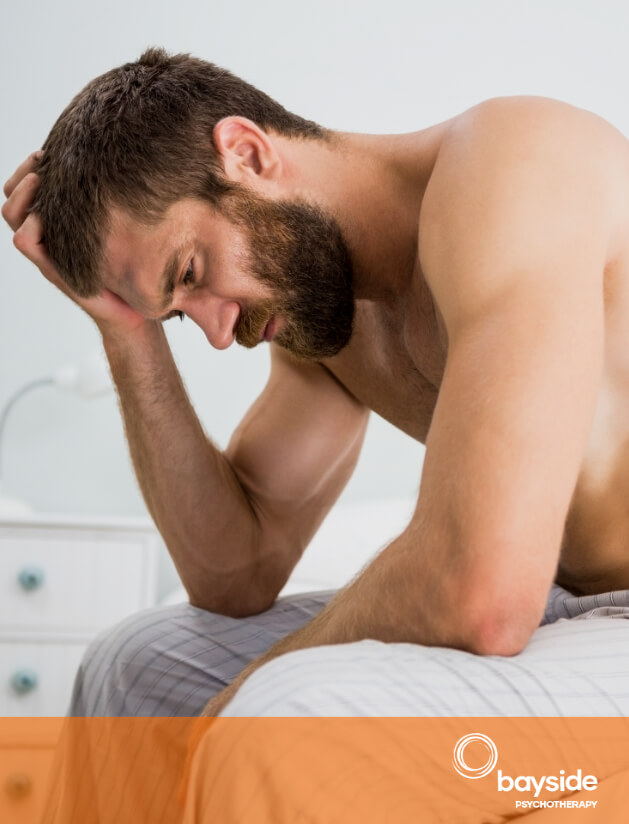 What is Premature Ejaculation?
PE is when a male ejaculates during sexual play or intercourse sooner than he or his partner would like. Although common among men, it's a cause for concern if the problem happens frequently.  
You may be experiencing premature ejaculation if you:
Always or nearly always ejaculate within one minute of penetration

Are unable to delay ejaculation during intercourse all or nearly all of the time

Ejaculate without the need for penetration

Feel distressed and frustrated, and tend to avoid sexual intimacy as a result
What Causes Premature Ejaculation?
Many men experience PE from time to time. Whether you're feeling a bit under the weather or particularly aroused, it's a normal sexual glitch. But if it happens every time you engage in sexual relations, it's best to take action. The more time that goes by without treatment, the worse the problem is likely to get. Naturally, anxiety tends to increase when you expect things to go wrong, making things more likely to go wrong. If the problem is not in the plumbing, it must be in your head.
That's where we come in. Like any sexual complication, premature ejaculation can have deep and tangled psychological roots. Techniques like NLP, hypnotherapy and mindfulness are designed to (in different ways) identify and manipulate patterns of thought and reaction so that they can work for you, rather than against you. Learning meditation and relaxation techniques may also help you derail anxiety before it derails you.

Symptoms Of Premature Ejaculation
Ejaculation that Occurs Before or Within One Minute:

This refers to ejaculation that always or nearly always happens before or after penetration during sexual intercourse.

Inability to Delay Ejaculation:

There's a lack of control over ejaculation, and orgasm occurs before it is wanted.

Negative Personal Consequences:

Deep feelings of distress, embarrassment, frustration, and avoidance of sexual intimacy due to the condition.

Reduced Sexual Activity & Pleasure:

Because of the rapid climax, both people involved might experience a reduction in overall sexual satisfaction.

Avoidance of Sexual Situations:

The fear of not being able to perform can make the problem worse and can lead to men avoiding intimate situations completely.

Emotional Distress and Relationship Problems:

Premature ejaculation may lead to feelings of inadequacy, low self-esteem, and difficulties in romantic relationships.
It's important to note that premature ejaculation is very common throughout a man's life, happening maybe once or twice and is not a cause for concern. But for some men premature ejaculation can be lifelong, and have serious impacts on intimacy and mental health. If this is the case then it's advisable to seek medical advice from a certified health care provider.
How is Premature Ejaculation Treated?
There are some things you may wish to try before seeking medical help. These include:
Masturbate before sex either 1 or 2 hours before

Try using condoms to help desensitise the feeling

Deep breaths in, this will help shut down the ejaculatory reflex

Play around with different sex positions

Taking a breather, do something else to take your mind of sex
If none of these help delay ejaculation then it is time to seek help from a professional.
Options For Premature Ejaculation
Counselling
There are sex therapists and psychologists, that can help with premature ejaculation and other sexual problems. You can benefit from speaking with one of the counsellors from Bayside Psychotherapy. Counselling can help identify the root cause of erectile dysfunction and premature ejaculation, it can also help improve any relationship or sexual issues you may have. 
Behavioural techniques
There are techniques for the treatment of premature ejaculation that can help a person to unlearn the habit of premature ejaculation and to get over performance anxiety.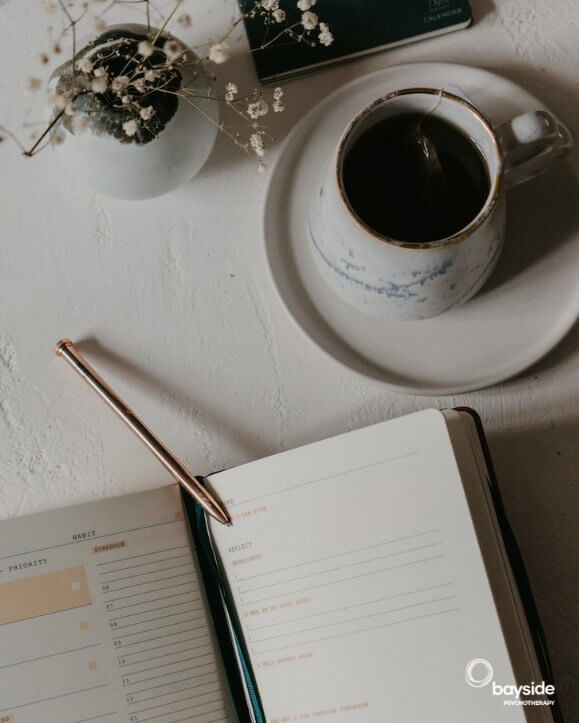 How does Bayside Psychotherapy Treat Premature Ejaculation?
We don't believe in band-aid solutions. Our therapists have training in counselling, psychotherapy, hypnotherapy (traditional and Ericksonian methods), NLP, cognitive behavioural therapy (CBT) and more, so we are able to tailor a treatment plan to your personal circumstances. Throughout the treatment process, your therapist will work with you to ensure you're comfortable and progressing toward your goals.
We also recommend our downloadable self-hypnosis recording for premature ejaculation so you can continue working through your issues wherever you are.
Seeking Professional Help
The therapists at Bayside Psychotherapy have years of experience dealing with this sensitive problem. Some of the approaches our practitioners use include neuro-linguistic programming (NLP), hypnotherapy, psychodynamic psychoanalysis, mindfulness therapy, dream interpretation and Buddhist psychotherapy, among others.
Call Bayside Psychotherapy on (03) 9557 9113 to find out if we're able to help you. Your call is completely confidential, and there's absolutely no obligation.
You can also book an appointment by using our online booking form for online appointments. Or, if you prefer, you can book an in-clinic session.
Self-hypnosis may also work well when used in conjunction with counselling. You can download our Premature Ejaculation Self Hypnosis recording from our website.
How Long Does Treatment With Bayside Psychotherapy Take?
For this condition, in particular, rushing treatment is not ideal. You know that too much haste in the bedroom creates problems, and so does trying to change too quickly in therapy. Patience is critical. No two courses of treatment for premature ejaculation are the same because no two men have the exact same sexual history — or the same personality.
Your treatment duration will depend on you and on the progress you and your psychotherapist make together. Some people may find that they notice results quite quickly, while others may benefit from a deeper investigation of the underlying causes of the PE. In either case, it takes a lot of courage to take the first step to seek help. And that's often enough to give you a boost of hope and confidence from the outset.
Note: Whilst we will do our best to assist you, we rely on our clients' full commitment to and participation in the treatment process to optimise results. Although some of our therapists work with people presenting with this condition, no guarantees of any outcomes can be made.
Time to start therapy?
03 9557 9113
Reception phone hours
8:30am – 5:30am
Monday – Friday
(closed on public holidays)
Choose your own date and time for an online or in-clinic session
Therapist Hours
Monday 8:00am to 8:00pm
Tuesday 8:30am to 8:00pm
Wednesday 8:30am to 8:00pm
Thursday 8:30am to 8:00pm
Friday 8:30am to 8:00pm
Saturday 8:00am to 6:00pm