Do phobias interfere with your life? Are there everyday things that you find frightening for no good reason? Are you looking for reliable and effective phobia treatment?
It's important to know that fear is a normal and valid feeling. It exists to keep us safe from danger by provoking a fight or flight response. However, when fear extends beyond the boundaries of its role as a practical warning system, it ceases to be useful and becomes oppressive. If your fear is irrational and out of proportion, it has become a phobia and should be dealt with.
Phobias can take many forms — and though they can seem trivial or even silly in some cases, they can still have a negative impact on your life. People can develop phobias about anything from riding in a car or imperfection (a particularly insidious phobia), to clowns or computers — or even fear of rain or the moon. Sometimes an accumulation of 'small' phobias can merge into generalised anxiety to a point that the sufferer finds themselves quite paralysed.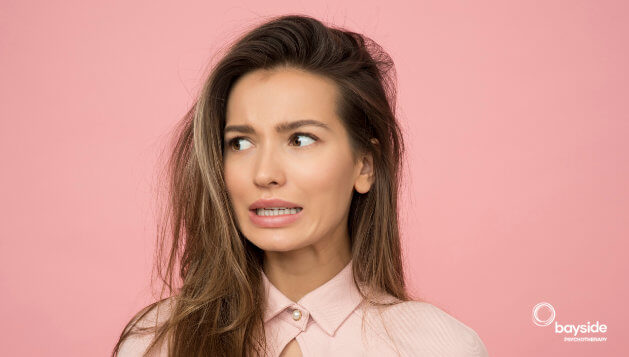 What Is Specific Phobia?
Specific phobia in its simplest explanation is a type of anxiety disorder that gives an individual an intense fear of a specific object, situation or activity. General feelings of unease or worry happen to everyone but a specific phobia causes overwhelming distress and individuals often go to great lengths to avoid their feared object or situation. Specific phobia in adults can be extremely debilitating in daily life.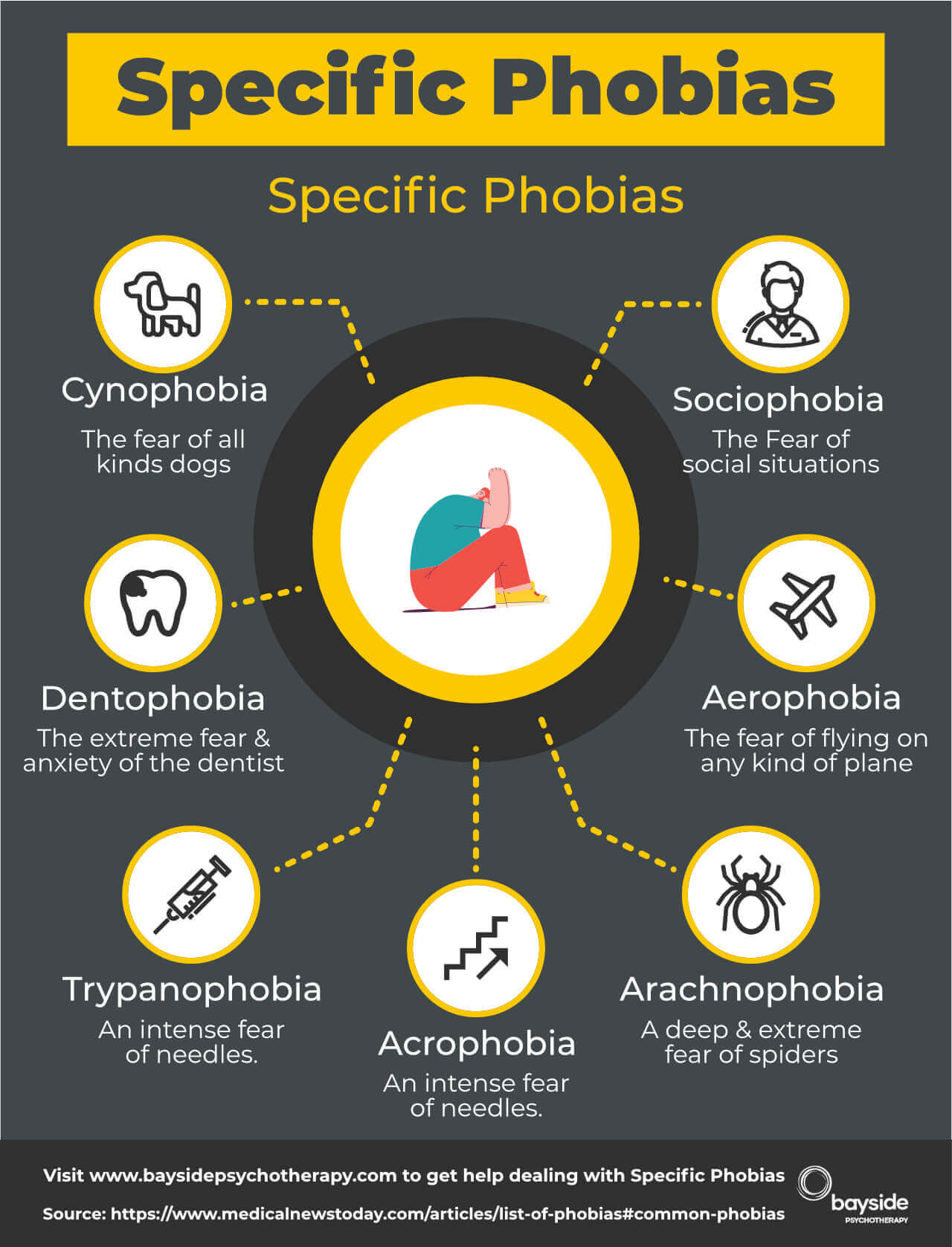 Specific Phobia Symptoms
Some symptoms that could indicate you are suffering from a phobia could include:
Shortness of breath

Accelerated heart rate

Shaking

Feeling faint or dizzy

Excessive sweating

Pale or clammy skin

Irritable bowel syndrome

Observable panic or 'hysteria' when confronted with the object of the phobia
The good news is that most phobias respond to treatment.
Do you suffer from claustrophobia — a fear of small or confined spaces — or agoraphobia, which involves both the fear of being in a public place and the fear of crowds? Both are common phobias our therapists have had success addressing for many patients.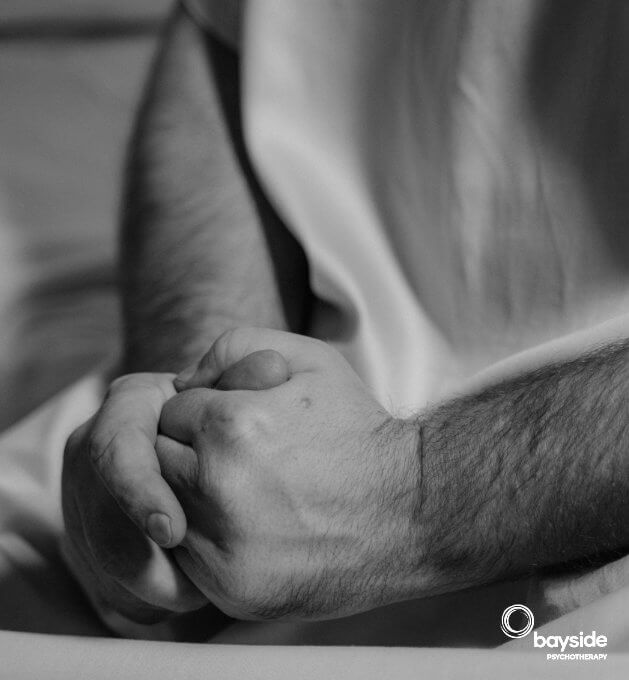 What Are the Side Effects of Having a Phobia?
While phobias are often noted to accompany avoidance behaviour and general restrictiveness, it's important to remember that they exist for a reason. The intent behind a specific phobia may be opaque at first. Therapy aims to elucidate the intention behind a specific phobia and make something new with it. Not addressing a phobia may lead to exacerbation of the fears and avoidance behaviours.
Other Specific Phobias We Can Help With
Needle Phobia
Terrified of needles? You are not alone, many Australians suffer fear and anxiety when it comes to needles. We can help you deal with your fear of needles.
Fear of Flying
Flying phobia is a common specific phobia in adults. Check out our Fear of Flying to get treatment.
Social Phobia
Social phobia is an extreme fear of being in social situations, and it can lead to major disruptions in work life and relationships. Find out Bayside Psychotherapy can help.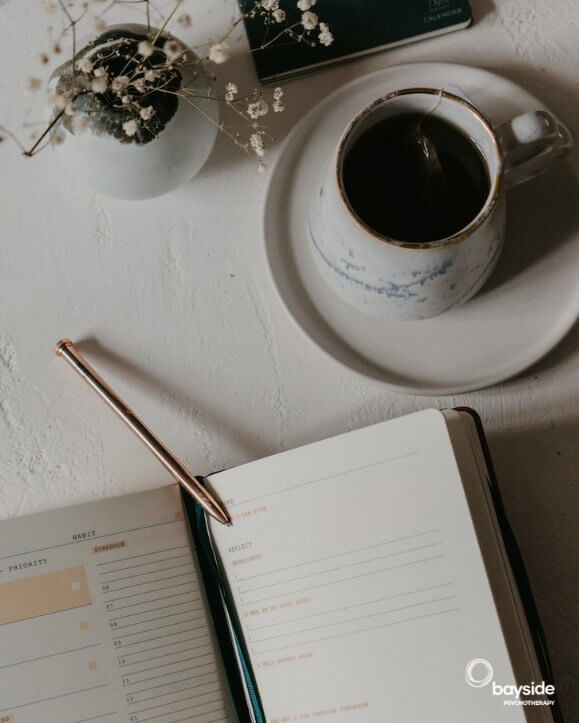 Seeking Treatment With Bayside Psychotherapy – What Treatments Are Available? 
Phobia treatment involves examining the cause of your phobia, which may lay buried deep in your past, and addressing it to bring it back into proportion. It means analysing and dismantling your overblown response to whatever you are phobic about so that, in time, you may learn to suppress or eliminate the symptoms. If we can reduce your reaction from outright panic to mild discomfort, we regard that as a win.
The skilled hypnotherapists at Bayside Psychotherapy have years of experience delivering phobia treatment to clients from all walks of life.
Our therapists offer face-to-face treatments at our Highett clinic in Melbourne, or online therapy using secure video conferencing platforms. You can also download one of our targeted self-hypnosis MP3 recordings if you'd like to get a head start on treatment.
You and your therapist may work together to discover the root cause of your phobia, what sets it off — and how to deal with your reactions. We aim to keep things simple with the goal of providing you with the tools to manage, and eventually master your phobia. If you understand the reasons behind your phobia, you'll be better able to face your triggers calmly and rationally. Some of the treatment methodologies we use include mindfulness meditation exercises, neuro-linguistic programming (NLP), and hypnotherapy.
At Bayside Psychotherapy, we don't believe in band-aid solutions or generic quick fixes. We'll consult with you to tailor a treatment plan to suit your individual needs and preferences.
How Long Will It Take to See an Improvement?
Everyone has different underlying causes for their panic disorder or phobia, so it's impossible to say for sure how long treatment will take. The act of taking control of your situation can be empowering enough to make a noticeable change. Usually, after a couple of hypnotherapy or counselling sessions, your therapist may be able to gauge how well your treatment is working. We may then be able to give you a clearer estimate of how much more therapy is likely to be indicated to effect lasting change.
Bayside Psychotherapy – Specific Phobia Therapy
Don't let your irrational fears limit or embarrass you any longer than you have to. Discover the treatment options available to you.
Bayside Psychotherapy offers the tools and strategies that may help you unpick your fears and potentially start taking back control of your life.
Do you have any questions for us? Get in touch with us through our online contact form. 
Call Bayside Psychotherapy on (03) 9557 9113 to find out if we're able to help you. Your call is completely confidential, and there's absolutely no obligation.
You can also book an appointment by using our online booking form for online appointments. Or, if you prefer, you can book an in-clinic session. 
Self-hypnosis may also work well when used in conjunction with counselling. You can download our Fears & Phobias Self Hypnosis recording from our website.
Note: Whilst we will do our best to assist you, we rely on our clients' full commitment to and participation in the treatment process to optimise results. Although some of our therapists work with people presenting with this condition, no guarantees of any outcomes can be made.
Time to start therapy?
03 9557 9113
Reception phone hours
8:30am – 5:30am
Monday – Friday
(closed on public holidays)
Choose your own date and time for an online or in-clinic session
Therapist Hours
Monday 8:00am to 8:00pm
Tuesday 8:30am to 8:00pm
Wednesday 8:30am to 8:00pm
Thursday 8:30am to 8:00pm
Friday 8:30am to 8:00pm
Saturday 8:00am to 6:00pm