About me
Born and bred in Melbourne, I'm an Accredited Mental Health Social Worker (AASW) and Clinical Psychotherapist (PACFA). I work with individuals and couples, adult clients who want to speak and engage in psychotherapy.
I own Bayside Psychotherapy and publish some of its content. I've been practicing from the Bayside Melbourne area providing face-to-face sessions for 15 years, and online therapy for 8 years. My main treatment orientation is psychoanalysis (Lacanian) with individuals, an in depth insight oriented talk therapy. I also combine Schema Therapy as appropriate.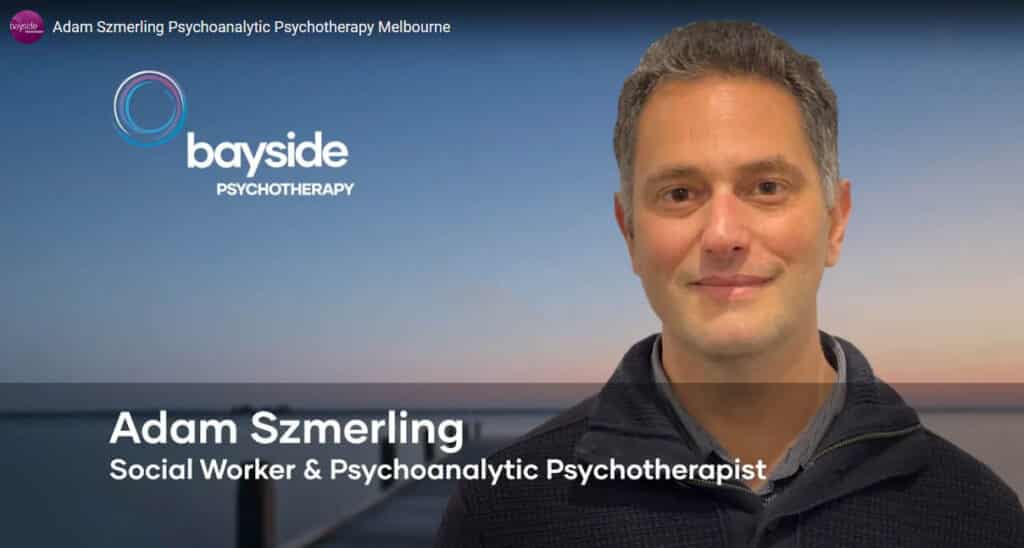 Qualifications
Bachelor of Applied Social Science (Counselling)
Graduate Diploma of Buddhist Psychotherapy
Master of Social Work (MSW)
Certificate of Lacanian Psychoanalytic Theory and Practice
Golden Key Member
Clinical and Mental Health Member of the Psychotherapy and Counselling Federation of Australia (PACFA)
Accredited Mental Health Social Worker (AMHSW)
But counselling & psychotherapy
go far beyond qualifications…
You should only ever seek treatment from a qualified counsellor or psychotherapist. But it's important to remember that qualifications, alone, don't make a great therapist. Experience, compassion, empathy, communication skills and open-mindedness are equally — if not more — important.
Only when you work with a therapist who is all of those things will you feel comfortable enough to unearth and resolve your deeply ingrained inner conflicts.
That's why I work from a position of non-judgmental acceptance, combining a variety of Eastern and Western treatment methods to tailor the most effective approach for you — regardless of cultural origin.
As a result, my clients often report feeling heard and understood, and unconditionally accepted as they are.
Unearthing and addressing the root causes
In fact, my policy of unconditional acceptance is integral to the success of my methods. In order to unearth and address the root causes of my clients' struggles, I combine two surprisingly compatible methods — Psychoanalytic Psychotherapy (Lacanian orientation) and Schema Therapy. While I work with many presenting symptoms, such as eating disorders, anxiety, depression and relationship conflicts, this method is designed to go deeper, beyond the surface symptoms.
For this process to be most effective, it is important that a commitment to regular sessions over time is possible. This involves attending sessions and speaking freely regardless of perceived urgency or consciously having something to get off your chest.
Psychoanalytic Psychotherapy
Psychoanalysis is an intriguing method, developed by Sigmund Freud, which uses free association to explore the connections between the conscious and unconscious. I invite you to speak freely and to attend to thoughts, fantasies and dreams; and I listen carefully for slips of the tongue, dreams, jokes, mistakes and other clues that might start to form a pattern. (Also known as 'illuminating the trail of the repressed', or 'deciphering the unconscious'.)
My goal here is to help improve your self-understanding by expressing more about yourself than you know about consciously, not to merely reduce your symptoms. When you come to know how you really tick, how your inner world — your 'psyche' — uniquely operates, your symptoms may even start to change of their own accord. This is not a 'quick fix' type of therapy.
I will invite you to question what you really want in your life. Not merely the conscious desires of the ego, though (a new house, another car, a husband, kids etc); but your particular unconscious wishes (usually conflictual). These desires may operate beneath your awareness, but they can have considerable effects on your life.
Schema Therapy
Psychoanalytic psychotherapy inevitably digs up painful thoughts and feelings. In fact, that's the point. The practice is to mindfully confront and address consciously unwanted experiences, rather than letting them continue to harm your relationships and undermine your wellbeing.
(Unresolved relationship patterns and ingrained thoughts are often enacted in your current relationships, as well as with your psychotherapist. This is called 'transference'.)
In contrast, Schema Therapy helps address the outward emergence of these painful memories, thoughts, feelings and patterns. It combines elements of cognitive-behavioural therapy, attachment theory, and psychodynamic therapy to treat patients who have long-standing emotional and behavioural difficulties.
It can have various benefits, including better stability of mind, decreased reactivity and enhanced insight. At its core, Schema Therapy is based on the idea that many people develop negative and rigid patterns of thinking, feeling, and behaving in response to early childhood experiences. These patterns, known as schemas, can be triggered by events in adulthood, leading to negative emotions and maladaptive behaviours.
An effective combination
Both Schema and Psychoanalytic Psychotherapy involve purposeful, non-judgmental observation and introspection, and their areas of focus go hand-in-hand. Schema therapy addresses distressing patterns via promoting a healthy therapeutic relationship, whereas psychoanalytic therapy targets unconscious internal conflicts arising from the past. Schema Therapy also offers insight into coping modes that activate during periods of distress and conflict. Promoting awareness of core schemas and coping modes can help people to speak and explore their unconscious conflicts further. I use Schema Therapy with couples, too. Psychoanalysis is more about the individual.
Dwelling on symptom reduction is like trying to sleep
I mention above that I focus more on your self-understanding than on direct symptom reduction. In part, that's because psychoanalysis tends to lead to symptom reduction by default. But it's also because dwelling on symptoms can cause anxiety, which can actually increase symptoms. It's natural for you to want your symptoms to vanish quickly, but dwelling on them — and obsessing about symptom reduction — can be like trying to go to sleep! The more you try, the less it happens.
Ongoing professional development
The field of counselling, hypnotherapy and psychotherapy is dynamic and rapidly advancing. New research findings are continually emerging, and even the most seasoned of counsellors need to constantly update their knowledge.
I participate in this evolution on both sides of the fence. I believe strongly in ongoing practitioner development and actively pursue additional professional training. At the same time, I provide clinical supervision to other psychotherapists.
My research and training areas include:
Psychotherapy for depression, anxiety and "personality disorders" and irritable bowel syndrome;
Lacanian Psychoanalysis (4-year course);
The effectiveness of mindfulness therapy on complex trauma and major depression and anxiety; and
Buddhist psychotherapy and mindfulness, and schema therapy.
I take on clients who are suited to me and my methods
I don't take on every client who contacts me. Instead, I assess people during our initial sessions to determine whether we would be a good fit. They need to be adequately committed to the journey (and likely to persist with therapy when it feels difficult) and be psychologically curious — willing to reflect on their past and consider how it informs the present, and be open to uncovering patterns and links. Furthermore, I do not work with children, adolescents, families or anyone involved in an active legal proceeding.
Psychoanalysis, my preferred method, is usually long term, sometimes taking years (not to say improvements aren't felt early on) at regular sessions. So naturally, the kind of people I can work with are those with a sustainable commitment to their treatment, with a keen interest in self-awareness.
My methodology requires a commitment over time generally with regular sessional frequency to be most effective.
Fortunately, I offer online psychotherapy, as well as face-to-face sessions at our Highett clinic. Being an online psychotherapist means patients can attend  sessions anywhere. All you need is a private space with appropriate boundaries and a stable internet connection.
My online sessions are conducted using a securely encrypted, private and convenient telehealth platform that does not require sign ups or downloading plugins. None of your personally identifiable data is stored on the server (unlike other popular video-conferencing platforms). It's also user friendly and convenient, requiring no fancy technical skills.
MEDICARE rebates are available under a valid mental health care plan (MHCP)*. Bulk billing is not available. MHCP plans may be emailed to me, or faxed to 0391241522 after having an initial session and discussion with me first. *The initial session can't be claimed under a MHCP. 
I also accept NDIS self-managed and plan-managed clients. NDIS self-managed or plan-managed clients do not book online. Please speak with me prior to booking if this applies.
Here's how to begin.
1. Call (03) 9557 9113 or book an appointment for individual psychotherapy or couples counselling with me via the website.
2. For online appointments: You will be emailed an intake form to complete securely online, and a passcode to access my waiting room before the session begins. For face-to-face appointments, I will send you an email confirmation and an intake form to complete prior to visiting our Highett clinic for your session.

Time to start therapy?
03 9557 9113
Reception phone hours
8:30am – 5:30am
Monday – Friday
(closed on public holidays)
Choose your own date and time for an online or in-clinic session
Therapist Hours
Monday 8:00am to 8:00pm
Tuesday 8:30am to 8:00pm
Wednesday 8:30am to 8:00pm
Thursday 8:30am to 8:00pm
Friday 8:30am to 8:00pm
Saturday 8:00am to 6:00pm