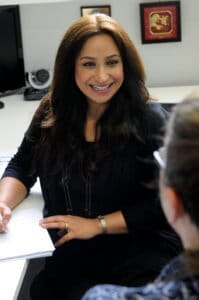 Available 7 days a week!*
Hello, thank you for wanting to know more about me. If you're here because you've decided to Take Action to better the quality of your life or health, I congratulate you, it takes a lot of courage to take the first step. I know you must be busy, so I'm going to keep it as brief as possible.
My name is Humaira Ansari, my life purpose is to help those who feel out of control or need a helping hand to improve their health or transform their lives – to live a life free of limiting beliefs, self-sabotaging behaviours, debilitating habits, dreadful fears and phobia, frustrating reactions, lack of motivation, self-imposing limitations, stuck-ness and many other things that stop them from living the life they desire and deserve.
As a Master Hypnotherapist, I believe that the answer to most of our problems lay in our subconscious minds and it takes a great amount of time and a lot of effort and the strongest of willpower to resolve our issues and negotiate with the subconscious mind on our own.
By using powerful clinical hypnotherapeutic, neuro-linguistic, psychotherapeutic and many other useful and smart techniques, I may be able to help you make your very difficult or even impossible journey to health and freedom possible and easy. I may help you get rid of the subconscious programming that's not serving any useful purpose now and replace it with a responsible and useful one, making life more meaningful and enjoyable.
Having learned from the best Hypnotherapy leaders from England, America, Norway and Australia and having nearly a decade of practical experience in the field and having seen clients from around the world face to face and via skype, has made it possible for me to claim that when you choose me, you'll be in safe hands and we'll work together to see if we're able to get you the best result, possible.
With hypnosis, like any other type of therapy, it's important that the therapeutic methods are right for the client and that their expectations are realistic too.
My hypnotherapy and other related qualifications include:
Master Hypnotherapist, Diploma in Hypnotherapy
Diploma in Neuro-Linguistic Programming
Stop Smoking, VitaKode method specialist
Certificate in Hypno-Coaching
Certificate in Parts Therapy
Certificate in Life Coaching
Certificate in Hypnotherapy and Psychotherapy
Clinical Member of Australian Hypnotherapists Association
Bachelor of Arts (Psychology and Economics)
Please note, no Medicare rebates are available. For private health rebates please check this directly with your insurance provider.
To book please call 9557 9113 during business hours.
Time to start therapy?
03 9557 9113
Reception phone hours
8:30am – 5:30am
Monday – Friday
(closed on public holidays)
Choose your own date and time for an online or in-clinic session
Therapist Hours
Monday 8:00am to 8:00pm
Tuesday 8:30am to 8:00pm
Wednesday 8:30am to 8:00pm
Thursday 8:30am to 8:00pm
Friday 8:30am to 8:00pm
Saturday 8:00am to 6:00pm