Trauma and PTSD Counselling
Trauma can be broadly defined as an emotional response to a distressing event — but the fall out from trauma is far more complex. Trauma may result from a single event, such as an assault or disaster, from repeated or prolonged stressors, such as bullying or sexual harassment or multiple different traumatising experiences, as may be the case for people raised in abusive, deprived circumstances. 
It is difficult to disentangle the effects of personal trauma from other mental health issues — which can both enhance and be exacerbated by traumatic events. It's essential to address complex trauma, ideally with the help of a professional trauma counsellor, as part of any mental health treatment.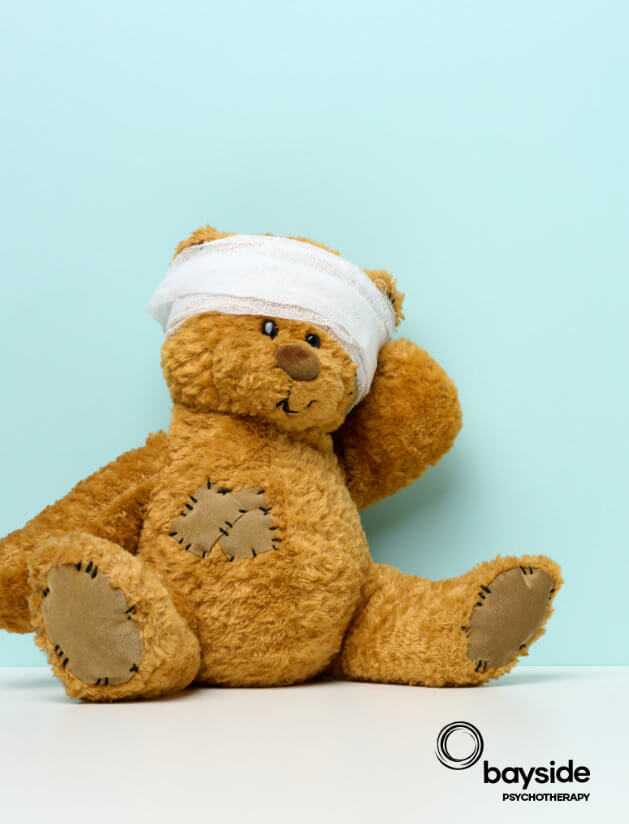 Heal From Childhood Trauma
The emotional response to childhood trauma can be mild, moderate or severe, and may lie dormant throughout a person's childhood, affecting their psychological development, or even interrupt how they relate to others.
Sources of trauma could include child abuse (emotional, physical or sexual), assault, rape, the sudden death of a loved one, domestic violence, emotional neglect, separation from family, or living through a natural disaster or war, among other things. 
Post-traumatic stress disorder is a serious condition with a specific set of symptoms that can result from trauma — but even long-buried, deceptively minor traumatic experiences can have serious effects. Seeking professional help is the first step in overcoming trauma, improving wellbeing and living a fulfilling life.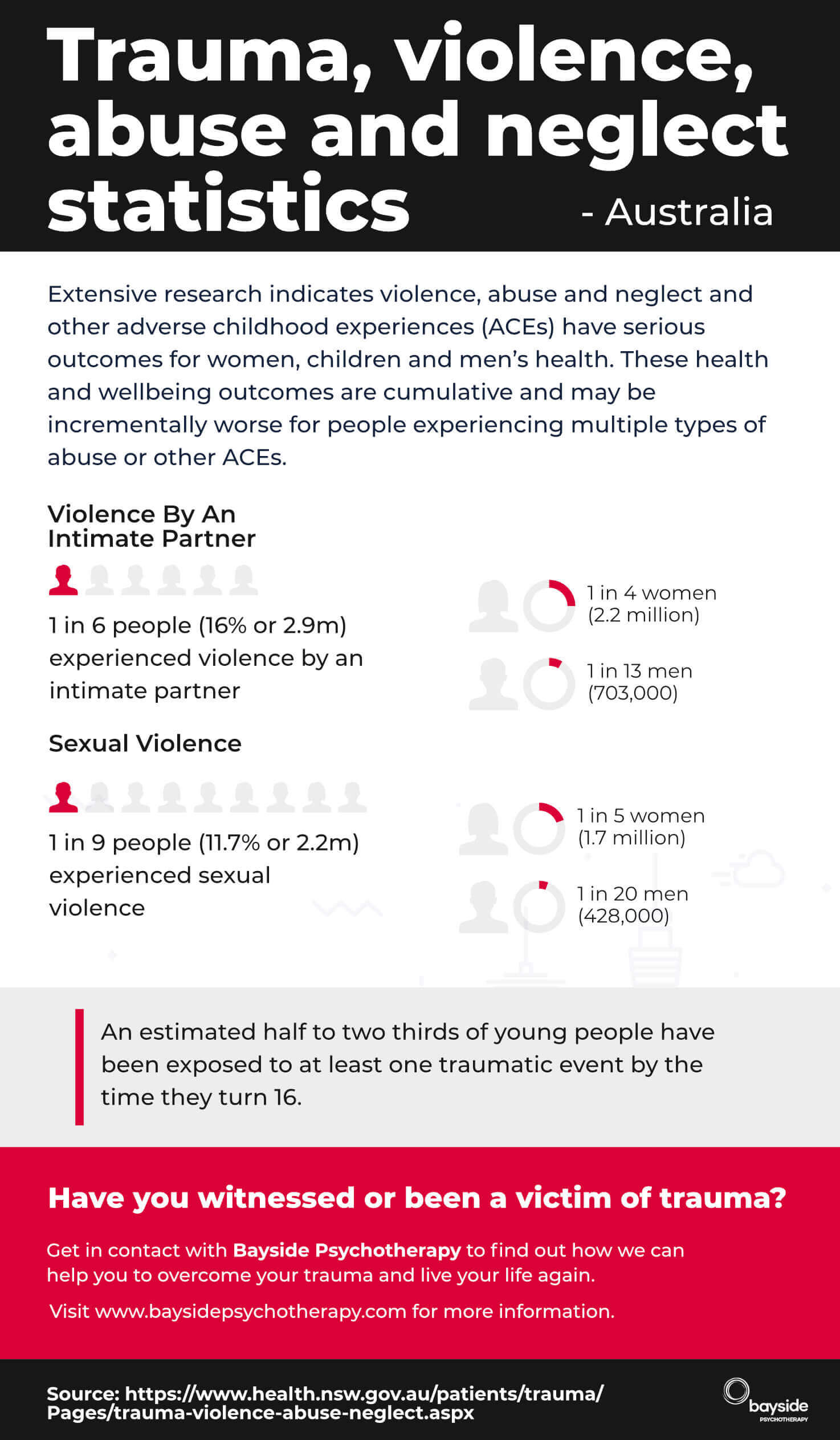 Am I Suffering From Trauma? 
Extraordinarily stressful events may result in emotional and psychological trauma. They can leave you struggling with upsetting emotions, memories, behaviours and anxieties that won't go away. They can also leave you feeling numb, disconnected, and unable to trust other people.
It's not the circumstances that define whether an event is traumatic, but your emotional experience of the event. The more frightened and helpless you feel, the more likely you'll be left traumatised. 
Trauma can manifest in different ways for different people, and it may not always be obvious what's at the root of the symptoms. Common signs of unresolved trauma include:
Intrusive thoughts

Flashbacks

Psychosomatic complaints (e.g. stomach upsets, chest, neck or back pain, headaches)

Poor self-esteem and self-worth

Weight issues (eating disorders)

Depression

Anxiety

Panic attacks

Substance abuse

Hypervigilance, being easily startled

Poor concentration

Emotional numbness/dissociation

Anger issues

Guilt

Shame.
This list is not a comprehensive one of symptoms, nor does the experience of any of these mean you have unresolved trauma.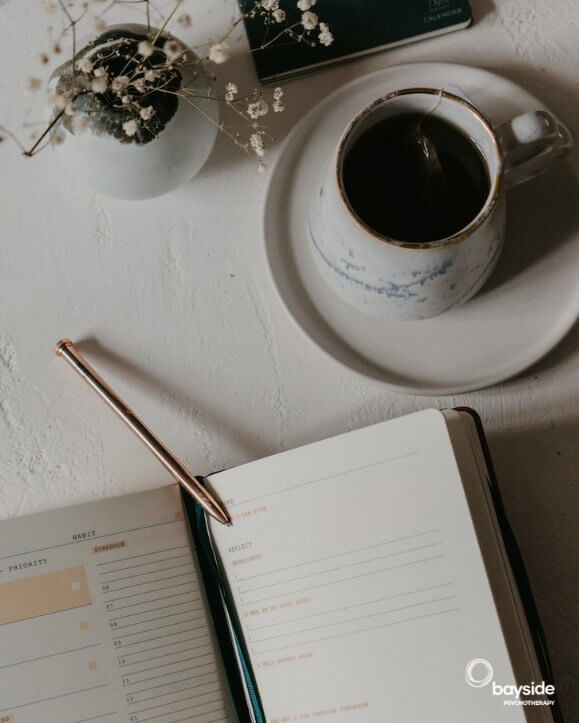 Seeking Trauma Therapy in Melbourne
The trained trauma recovery therapists at Bayside Psychotherapy have extensive experience working with trauma, and endeavour to work with you to get to the bottom of your trauma in a counselling session. Counselling takes place in a non-judgemental space and is designed to make you feel safe, to help you learn how to cope. We will give you all the tools you need to heal.
We can see clients either face-to-face in our Melbourne clinic in Highett or remotely, via secure online connections. We also offer a downloadable self-hypnosis recording for trauma relaxation that may complement your therapy.
Call us on (03) 9557 9113 to find out if we're a good fit for you, or use our contact form to enquire. Your call is completely confidential, and there's absolutely no obligation.
You can also book an appointment by using our online booking form for online appointments. Or, if you prefer, you can book an in-clinic session.
If you are in crisis, please call Lifeline on 13 11 14, or contact your local emergency department.
Don't underestimate the seriousness of your situation. Unprocessed trauma can impact your health, emotions, sleep, your capacity to concentrate and your relationships.
How Does Bayside Psychotherapy Approach Trauma Therapy?
At Bayside Psychotherapy, we believe in customising treatment to your individual needs. Our experienced practitioners are trained in a range of methodologies, including psychoanalytic psychotherapy, counselling, mindfulness meditation, dream analysis, NLP, hypnotherapy and client-centred counselling, among others. After your initial assessment, your therapist will put together a program that may include one or a combination of these approaches. Your progress will be evaluated regularly, and tweaked as necessary.
Talking about trauma, or working to discover where it lies, can mean reliving the terror and dismay of the initial experience. This creates substantial barriers for many people, whether conscious or subconscious. At the same time, dwelling on trauma is not helpful either.
Learning how to go through intense feelings mindfully is completely different to dwelling. Dwelling on traumatic experiences can make matters worse because there is no positive purpose attached. But learning how to understand and accept feelings without judgement may be a very effective method of overcoming the negative effects of trauma. There is a specific counselling approach called Mindfulness Therapy which has proven very successful in treating trauma. Psychotherapy works well with Mindfulness Therapy, and both are collaborative techniques, which gives you control over how we work together. Approaches are suggested on a case by case basis.
How Long Does Treatment Take?
Trauma counselling takes time. No two courses of treatment are the same, just as everyone's individual experience and symptoms of trauma are different. The duration of your therapy will depend on your circumstances and on the progress you and your psychotherapist make together. Our goal is to unearth and resolve your underlying trauma. It's important to stay committed to the therapy process once you start, with realistic expectations. After a few sessions, your therapist may be better able to assess how long your treatment process is likely to take.
Note: Whilst we will do our best to assist you, we rely on our clients' full commitment to and participation in the treatment process to optimise results. Although some of our therapists work with people presenting with trauma, no guarantees of any outcomes can be made.
Time to start therapy?
03 9557 9113
Reception phone hours
8:30am – 5:30am
Monday – Friday
(closed on public holidays)
Choose your own date and time for an online or in-clinic session
Therapist Hours
Monday 8:00am to 8:00pm
Tuesday 8:30am to 8:00pm
Wednesday 8:30am to 8:00pm
Thursday 8:30am to 8:00pm
Friday 8:30am to 8:00pm
Saturday 8:00am to 6:00pm