Five Ways Hypnosis Can Help You Lose Weight
Hypnosis dates back to the 18th century where it was first used to treat patients in Paris and Vienna. Today, hypnosis as a form of treatment (hypnotherapy) has gained greater acceptance and is now used widely by licensed health professionals to successfully treat a variety of conditions.
What is hypnosis and hypnotherapy?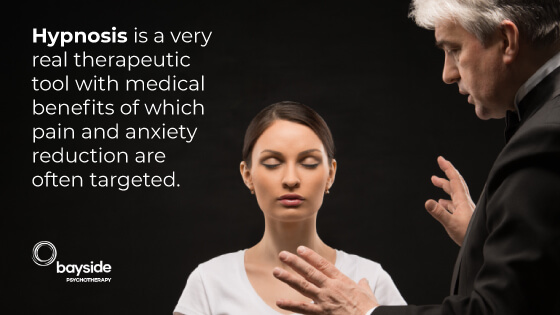 Hypnosis is defined as an altered state of consciousness in which a person enters a 'trance-like' state. Upon entering this state, most people experience elevated levels of attention and concentration whilst their mind becomes more susceptible to suggestions.
Contrary to popular belief, a hypnotised person always remains fully in control and will not act against their will.
Hypnotherapy is where a licensed professional helps guide and induce their patient into this altered state. The psychotherapist or other licensed professional then uses specific techniques to help treat their patients for a range of different conditions and undesirable, life-affecting habits. Hypnosis is a very real therapeutic tool with medical benefits of which pain and anxietyr eduction are often targeted.
How is hypnosis administered?
Hypnotherapists often administer hypnosis through verbal repetition and mental imagery. The hypnotherapist will often use gentle and soothing tones to help their client relax, which is key to entering the 'trance-like' state.
Once the client is receptive, the therapist will suggest ways to help achieve their goals (which may be to lose weight, quit smoking, or alleviate pain and anxiety that arise from a range of conditions).
Again, it's important to note that a patient will never lose control over their behaviour or actions. Instead, they just become more receptive to suggestions.
Hypnosis can also be self-induced. Many techniques canbe used to enter a hypnotic state on your own, but it usually takes a lot of time and practice.
What conditions can be treated with hypnotherapy?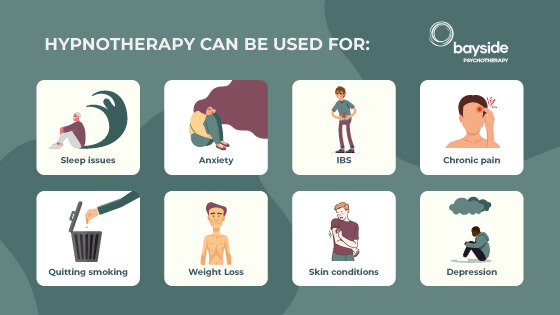 Hypnotherapists usehypnosis to treat a wide range of conditions. These include:
– Bulimia
– Anger Management
– Binge Eating Disorder
– Quit smoking
– Weight Loss
– Obsessive Compulsive Disorder (OCD)
– Depression
Hypnosis for Weight Loss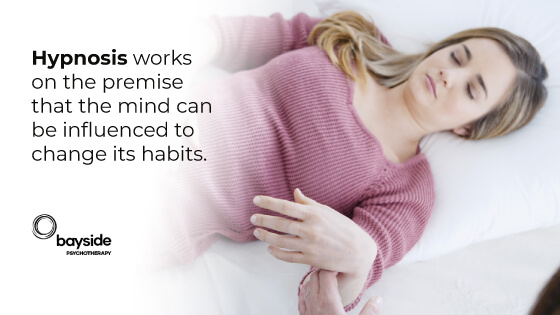 We often get asked if hypnotherapy really works for weight loss.
Well, from our own experience, yes it does.
A recent meta-analysis looked at the effects a combination of hypnotherapy and cognitive-behavioural therapy (CBT) had on obese patients and weight loss. This study found that the combination of hypnosis and CBT wasvery effective in producing weight loss over a relatively short period of time.
When combined with other techniques, hypnosis can significantly support weight loss efforts.
Hypnosis works on the premise that the mind can be influenced to change its habits. In this case, hypnosis could help the mind become more aware of making healthier food choices. There is also some evidence that hypnotherapy may help reduce stress and modulate hormone levels, significantly impacting weight loss efforts.
Step-by-Step Example of a Weight Loss Focused Hypnotherapy Session
Your therapist will start the session by explaining how hypnosis works before discussing your personal goals. The therapist's tone will gradually become gentler, which will help you to relax. You will feel comfortable and safe as your reach a greater state of relaxation.
Once your therapist notices you becoming more receptive he or she will start implementing suggestions to help control your eating habits.
Your hypnotherapist will continue to use verbal repetition and mental imagery. Certain keywords may be used repeatedly. These will penetrate and ingrain themselves into your subconscious mind.
Your therapist may also engage your mind in a vision of success. For example, they may help you visualize life at your desired weight where you consistently make the right food choices.
They'll then guide you out of hypnosis and into your normal, waking state. The length and number of hypnosis sessions you need are subjective and vary between individuals. Your therapist might also use hypnotherapy alongside other treatments such as Nutrition Advice or CBT (Cognitive Behavioural Therapy) to obtain optimal results.
Five ways in which hypnosis can help you lose weight: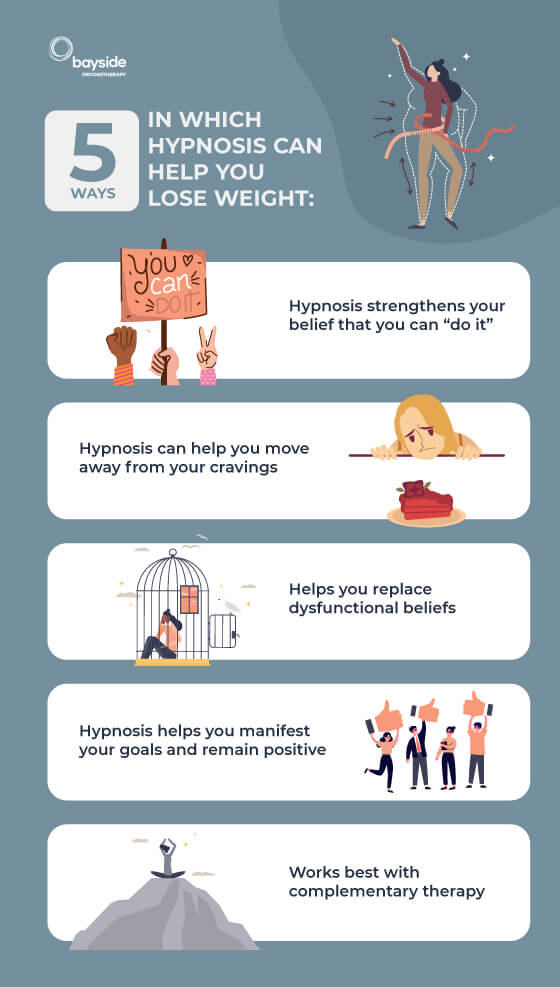 Hypnosis strengthens your belief that you can "do it":
As the saying goes, we achieve what we believe we can achieve.
Hypnosis ingrains the belief into your mind that you can lose weight. This belief is the foundation to success. This belief helps you accept the suggestions you receive in your hypnotic state more wholeheartedly. While your hypnotherapist may first work on strengthening your belief, it is sometimes already there.
Hypnosis can help you move away from your cravings:
As we already know, there are two main techniques to induce hypnosis – verbal repetition and visual imagery.
When a client is in a state of hypnosis (or sometimes during awareness), therapists often use mental imagery to help you distance yourself from unhealthy habits. For example, your therapist may ask you to visualise putting your food cravings onto clouds before sending them far away. While this may sound a little foolish, the use of symbolic imagery can be extremely powerful.
Helps you replace dysfunctional beliefs:
Food cravings or unhealthy eating habits often stem from us believing that our body "needs" to eat that particular item. Like emotional eating, we often trick our minds into believing we need to eat comfort food to feel better. Hypnosis helps you become aware and let go of these beliefs that are held deep in the subconscious.
Hypnosis helps you manifest your goals and remain positive:
Athletes are often told to 'keep their eyes on the prize' when they're physically suffering in a game or at practice. It helps them work through their pain and enhances their actual performance. Top athletes also know that positive self-talk gets them a lot further than negative self-talk.
Similarly, hypnosis helps you remain focused on your goal of losing weight and the healthier lifestyle that comes with it. Hypnosis helps you find that grit and determination through positive affirmation, which squashes self-sabotaging thoughts and beliefs.
Works best with complementary therapy:
Like we said earlier, the effectiveness of hypnosis is enhanced when combined with other treatments such as Cognitive Behavioural Therapy or Nutrition Advice. CBT and hypnosis is a winning combination with proven results. CBT allows you to consciously become aware of and understand your behavioural traits before you take the next step of working towards changing them.
It's important to remember that hypnosis is subjective and works best when combined with other treatments. Individuals respond to hypnotherapy differently. Often multiple sessions are needed for best results, and for some, hypnotherapy may not work at all. However, for others, hypnotherapy has been a life-changer.
Feel free to speak to one of our professional therapists for weight loss treatment. You can link up through a confidential and secure video conferencing session – anywhere in Australia or call 03 9557 9113 for an appointment in our Melbourne clinic. Professional help is just a click away. All you need to do is reach out.
Here are a couple of blogs written on this topic you might find useful: