The Different Types of Mental Health Therapists: Who's the right fit for you?
Mental health awareness has grown significantly and especially as a result of COVID and the associated lockdowns.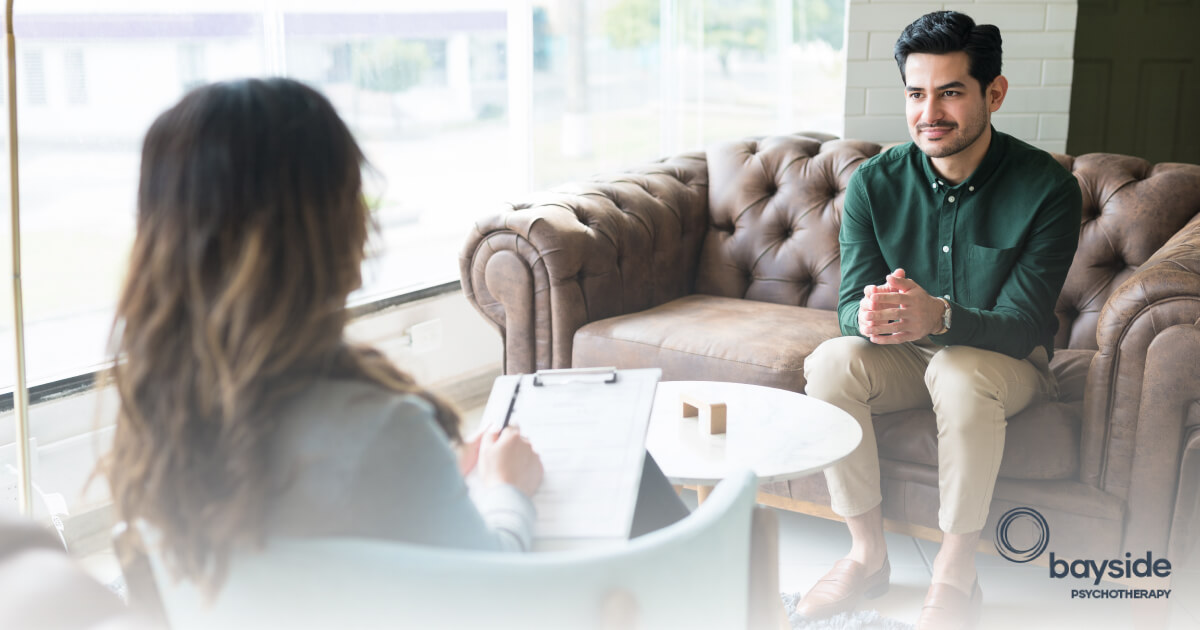 In Australia, we have taken huge steps forward in opening up about our mental health issues. However, when it comes to assessing our mental state or seeking treatment for potential issues the solutions may still remain a little unclear.
Like a physical health check-up at the doctor's office, a mental health check-up is essential for overall well-being. A registered therapist can assess your mental health and provide recommendations regarding appropriate treatment options.
Seeking therapy can help prevent or navigate various mental health concerns such as depression, eating disorders, anxiety or stress. But with several types of therapists out there, which one is the right fit for you?
Understanding the differences between types of mental health professionals:
Psychologists
Psychologists need to have a minimum six-year sequence of education and training in psychology to become eligible for general registration as a psychologist in Australia.
Psychologists are highly skilled at identifying underlying issues, diagnosis, formulation and developing treatment plans to help you cope or overcome your issue.
Their solutions are commonly drawn from theory, science, and clinical knowledge, and they work closely with their clients to diagnose and treat psychological challenges or conditions.
Psychologists generally have a diagnostic focus and integrate their assessment with observations, tests, and evaluations to present a formulation of a clients difficulty and will then discuss various treatment options available best suited to the individual and their unique challenges.
In Australia, a psychologist must be registered with the Psychology Board of Australia. There are generalist and Clinical Psychologists with the latter having access to higher Medicare rebates under Better Access.
Psychiatrists
A psychiatrist, like a psychologist, is also a mental health practitioner. However, the major difference is that a psychiatrist is a trained medical doctor with a strong focus on exploring the biological basis of mental health conditions. They often prescribe medication and some will also provide concurrent psychological therapy as well.
Psychiatrists are highly skilled in cases where a client is in crisis or in need of urgent care for sudden-onset mental illness.
Psychiatrists have also been trained to uncover and distinguish mental health issues from physical ailments which may result in psychiatric symptoms.
Psychotherapists
A psychotherapist is an umbrella term that encompasses psychiatrists, psychologists and other mental health professionals who have undergone specialised training in psychotherapy.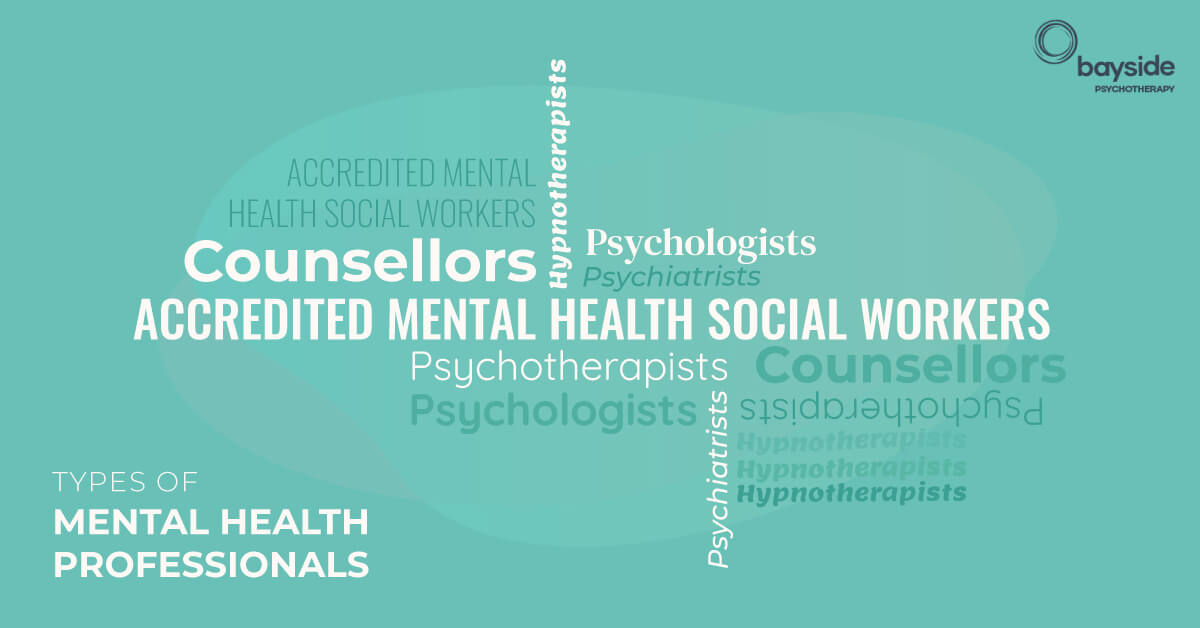 A psychotherapist can help people with emotional, social and mental health issues, including depression, eating disorders, anxiety and other mental health issues. Psychotherapy is valuable in that it can help people change the way they think and behave, strengthening their ability to cope with life issues.
Psychotherapy can enable you to understand your feelings, thoughts, and actions and how to manage them to live a happier, more fulfilling life.   Sometimes this may involve a psychotherapist uncovering unresolved issues that stem from childhood. Psychotherapy is commonly associated with "depth" work where the approach aims to support clients to undertake deep transformation to help generate significant changes in self awareness and insight, use of effective and flexible thinking skills and enhancing coping skills and emotional intelligence.
Counsellors
A counsellor is also a professional but differs from a psychologist or psychiatrist. In Australia, the practice of psychology and psychiatry is highly regulated, while counselling receives less oversight. Counsellors must complete a minimum of 350 hours of training plus 50 hours of supervision, while a psychologist must train for at least six years.
A counsellor can help you through a range of issues you may face in everyday life through means of support rather than a scientific assessment.
Counsellors often utilise a person centred approach rendering them great listeners and communicators and can work with you to help you identify and resolve issues such as overcoming abuse and eating disorders.
Accredited mental health social worker (AMHSW)
Medicare Australia recognises accredited mental health social workers (AMHSWs) as providers who deliver clinical social work services by using certain evidence-based strategies.
An AMHSW accreditation requires a minimum of two years of full-time employment in a mental health position within the past five years following completion of a qualifying social work degree. This may involve a 4-year Bachelor degree in social work or 2- year qualifying Master's degree (with relevant undergraduate degree) including 1000 hours of supervised field placement.
These professionals may work with all age groups to holistically strengthen mental health, though each practitioner differs.
An accredited mental health social worker may use a range of interventions to help people through their mental health issues. Some AMHSW's have undertaken additional training as counsellors and psychotherapists, too.
Hypnotherapists
Hypnotherapists are trained professionals who are skilled at inducing a trance-like state to help treat conditions or change habits. A hypnotherapist works on the patient's subconscious mind to help change their way of thinking and behavioural patterns.
Hypnotherapists in Australia need to complete a certification program in hypnotherapy through industry organisations such as AHA, HCA or ASCH. These organisations are responsible for setting appropriate industry standards.
Hypnotherapy can be extremely effective for a range of mental and physical health issues, including chronic pain conditions, anxiety, PTSD, depression and eating disorders.
Hypnotherapy is often used in conjunction with other types of therapy and some psychologists, social workers and counsellors undertake hypnotherapy training and incorporate these skills in their clinical work.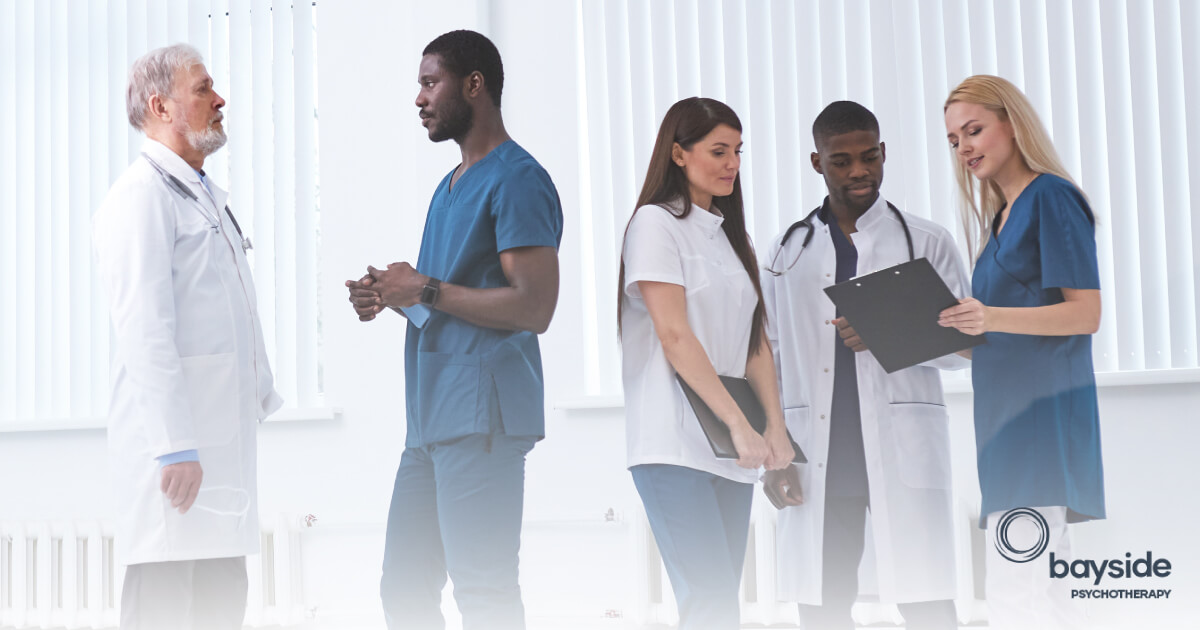 Which type of therapist should you see for your treatment?
If you want to seek advice or treatment for a mental health concern, any one of the above mental health practitioners will likely be able to help you or at least point you in the right direction.
But here is a general overview that may help you decide who to make an appointment with.
Psychologists deal specifically with mental health concerns. If you think you might be suffering from a mental health issue, then visiting a psychologist is a great place to start.
Sometimes, a mental illness may present with physical symptoms also. A psychiatrist can help you diagnose your issue. Psychiatrists are trained medical professionals who can prescribe medication and help you figure out whether your mental health ailment stems from a physical issue. When suffering severe or debilitating mental health symptoms, a psychiatrist is a great professional to see.
If you're suffering from longer-term trauma, obsession, depression, or similar mental health concerns, the right choice for you may be a psychologist or a psychotherapist. A psychotherapist can help you unearth the root cause of your issues and manage your inner battles. At times this work can be augmented with medication prescribed by a psychiatrist.
If you're seeking more general management pertaining to a life issue, such as a relationship or career-related problem – a counsellor may be the right choice. A counsellor will listen and talk you through your problems. Remember – a counsellor is still an expert on mental health-related issues.
Accredited mental health social workers are highly trained professionals who will explore a more holistic solution to your mental health problems. AMHSWs are skilled at assessing and treating complex mental health disorders while improving your quality of life.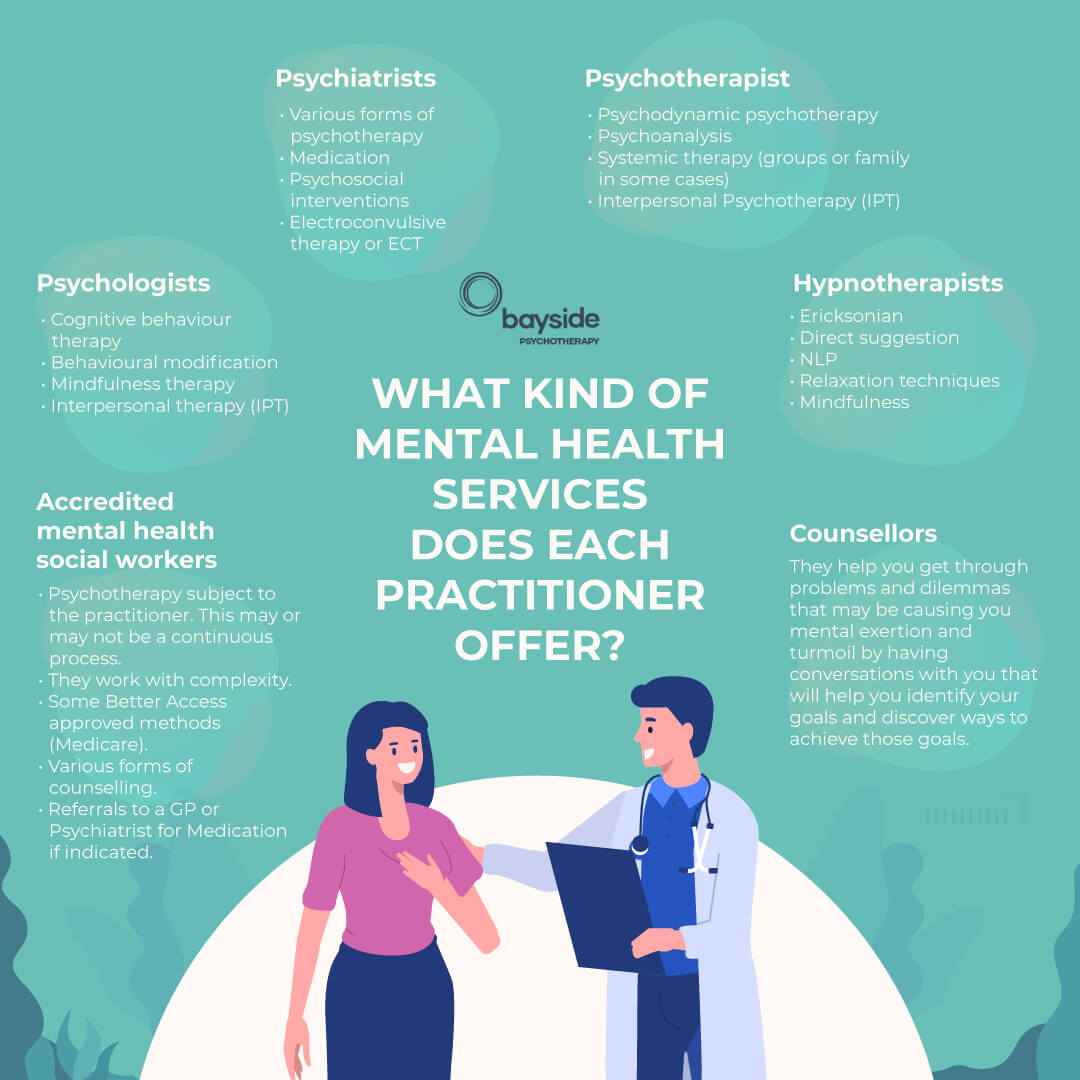 What kind of mental health interventions do these different types of therapists apply?
All mental health professionals are skilled at treating various mental health issues and often treat the same or similar conditions.
Psychologists
While all of the following techniques are used in therapy as a whole, psychologists primarily deal and work exclusively with them.

Cognitive behaviour therapy
Behavioural modification
Mindfulness therapy
Interpersonal therapy (IPT)

Psychiatrists

Various forms of psychotherapy
Medication
Psychosocial interventions
Electroconvulsive therapy or ECT or transmagnetic stimulation (TMS)

Psychotherapists

Psychodynamic psychotherapy
Psychoanalysis
Systemic therapy (groups or family in some cases)
Interpersonal Psychotherapy (IPT)

Counsellors

Counsellors help you get through problems and dilemmas that may be causing you mental exertion and turmoil by having conversations with you that will help you identify your goals and discover ways to achieve them.

Accredited mental health social workers

Psychotherapy subject to the practitioner. This may or may not be a continuous process.
They work with complexity.
Some Better Access approved methods (Medicare).
Various forms of counselling.
Referrals to a GP or Psychiatrist for Medication if indicated.

Hypnotherapists

Ericksonian
Direct suggestion
NLP
Relaxation techniques
Mindfulness
How often should you see your therapist?
The duration of your therapy depends on several factors, such as:
Your specific mental health concern
The method or technique adopted by your therapist
Your progress towards your therapeutic goals in therapy sessions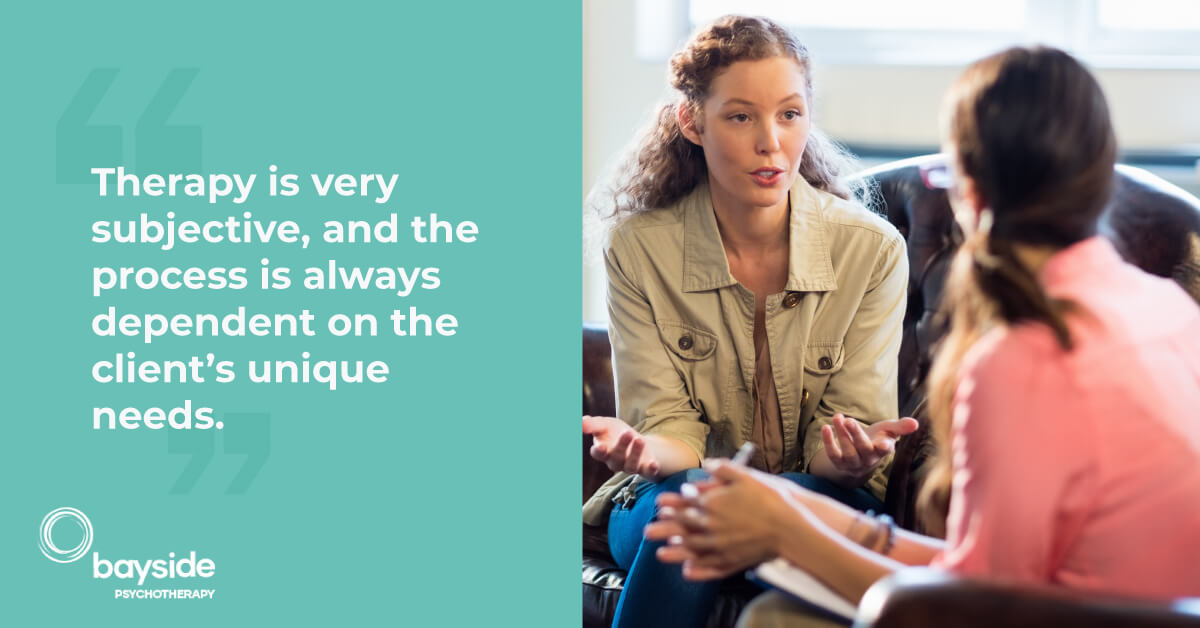 People generally visit their therapists once a week or once every fortnight.
However, one may choose to visit their therapist more or less often.
Therapy is very subjective, and the process is always dependent on the client's unique needs.
But, don't worry, your therapist will discuss the frequency of therapy sessions with you during your initial sessions based on your current concern, and your lifestyle and availability.
What training, qualifications, and experience must an Australian mental health therapist have?
Psychologists
Regulated by the Australian Health Practitioner Registration Agency, psychologists need to have a four-year undergraduate degree in psychology. Along with that, they need one of the following:

Two years of internship to aid formal training, or
One-year post-graduate qualification and one year of internship, or
A two-year master's degree or a three-year doctoral degree in a related field.

Psychiatrists
Psychiatry is also regulated by the AHPRA. Psychiatrists are trained medical doctors with extensive training, which helps them specialise in psychiatry. It generally takes 11 years to become a fully qualified psychiatrist.
Psychotherapists
Psychotherapy in Australia is self-regulated by internal authorities. Some psychotherapists may hold professional memberships with Australia's Psychotherapy and Counselling Federation. The minimum qualification a psychotherapist needs is an undergraduate degree in a health-related stream and three to four years of specialised training in psychotherapy.
Counsellors
In Australia, a short correspondence course via any university for an undergraduate or master's degree is all that is needed to be a counsellor. However, where they work depends on their training and experience. Much like psychotherapy, counselling is also self-regulated by internal authorities in Australia. However, like psychotherapists, they may hold professional memberships with the Psychotherapy and Counselling Federation of Australia.
Accredited Mental Health Social Workers (AMHSW)
At minimum following a Bachelor or Masters of Social work, at least 2 years full time work experience in a Mental health setting is required. An exam and other evidence is required to demonstrate capacity to receive endorsement as an AMHSW, assessed independently through the Australian Association Social Workers (AASW).
Hypnotherapists
Hypnotherapists in Australia need to complete a certification program in hypnotherapy through any of the following organisations:

Australian Hypnotherapists Association (AHA)
Hypnotherapists Council of Australia (HCA)
Australian Society of Clinical Hypnotherapists (ASCH)

While hypnotherapy is a self-regulated industry in Australia, hypnotherapists are not required to meet any specific level of training. The organisations mentioned above are responsible for setting appropriate industry standards.
The difference between short-term and long-term treatments:
Short-term treatments
Short-term treatments refer to visits to the counsellor or an accredited mental health social worker who will help you with a particular aspect of your life or aid your general well-being.
Short-term treatments focus on short-term goals, issues, and aspirations and aim to make your future better by discussing your 'now'.
Long-term treatments
Psychotherapists, psychiatrists and psychologists generally manage long-term treatments.
These treatments can help you uncover the underlying reasons behind your behaviour and illnesses (mental health disorders, if any) and provide you with a personalised treatment plan.
These treatments don't discuss just the 'now', but involve diving into your past to understand the cause of your problems.
Here are a few questions to ask before deciding on the correct mental health professional for you.
Do you have a particular educational preference? Do you feel more confident in seeing a practitioner that has undergone longer specialised training?
Do you want a therapist who specialises in a particular area / mental health concern?
Are you willing to visit the professional in-person or do you prefer online sessions?
We are finally in an era where people are taking steps towards prioritising their mental health. But, while the stigma does seem to be fading, it's important to understand that therapy is the need of the hour – it helps you talk, heal, grow and thrive.
Please note that while the above guides may cover some of the qualifications and experience at Bayside Psychotherapy, the guide is general in nature. If you are seeking for example a specific intervention, such as psychoanalysis, hypnosis, mindfulness or CBT refer to our individual therapist's pages prior to booking.
You should never have to go through emotional difficulties and turmoil on your own; we are here to help you. Reach out to us and talk to a qualified mental health therapist today.
Here are a couple of blogs written on this topic you might find useful: