Less stress, better grades (Self-hypnosis 3pack)
Audio length: 1hr : 14m : 26s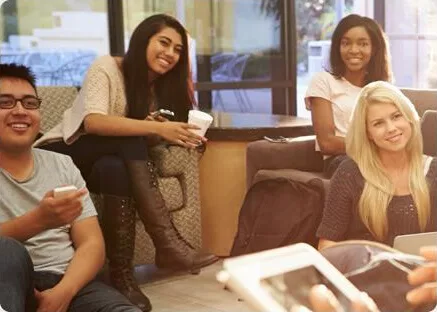 Stress is one of the biggest roadblocks to high grades. It inhibits your cognitive function and impairs your memory.
But it doesn't have to compromise your grades.
There's not a lot you can do about the causes of stress – the exams, deadlines, late nights and complex concepts – but what you can do something about is how you manage that stress…
Research shows you learn better when you're relaxed
Research shows that being mindful and relaxed helps improve the cognitive functions associated with learning, studying and preparing assignments. Functions like memory and concentration. Plus, when you feel less anxious, you work more efficiently, so you achieve more with the time you have.
It's a no-brainer.
The only question is how do you become mindful and relaxed when you have so much to do and so many pressures, yet so little time?
Well, the good news is, that's a no-brainer too – literally. You may be able to do it with self-hypnosis, with almost no conscious thought or effort.
Self-hypnotherapy is a proven solution
Don't worry, we're not talking about Hollywood hypnosis here; there's no gently swinging timepiece or heavy eyelids. That's not hypnosis, it's showmanship!
In reality, hypnosis is basically just 'zoning out' while someone talks, so your brain can 'soak up' information like a sponge, without any effort from you. (The technical term is 'uncritical acceptance of suggestion'.)
Don't think you can be hypnotised?
If you don't think you can be hypnotised or even just 'zone out', think again…
Remember that time you glazed over while your mum was nagging you? Couldn't remember a thing she said, even though you physically heard every word? Or that time you drove for half an hour on familiar roads and didn't remember anything about the trip? Or that time (every day!) when you sat there and just stared at your computer screen?
In each of these situations, your mind was actually in a self-induced, trance-like state, and this is exactly the state required for hypnosis.
What you get in this 3-pack
The Uni Hypnotherapy 3-Pack gives you three invaluable self-hypnosis resources to help you improve your academic performance by better managing your stress and fears and becoming more confident, overall.
The Uni Hypnotherapy 3-Pack
Special Price
$59.85
$47.88
Here's how they work
Just download the MP3 and play it on your phone, bluetooth speaker or Chromecast, exactly as you would any other digital audio (e.g. music). We recommend listening on the train or before you go to sleep, or in some other environment where you can relax and zone out for 20-30 minutes.
Most people start to see results after just 30 days of daily listening, but many see results a lot sooner than that.
Don't need all 3?
These three unique resources were designed to work hand-in-hand to reinforce each other's learnings, and help you reduce stress and increase mindfulness.
So even if you're already confident, or your don't have any specific fears you want to work on, you'll get more benefit out of the pack than you would out of just a single recording.
Plus, self-hypnosis relies on repetition to create new habits.
Together, these recordings give you enough content to mix it up, so you can listen to them every day for a month, without getting bored.
Who created these hypnotherapy recordings?
Experienced counsellor Adam Szmerling had these recordings produced with the help of his Melbourne counselling team and a professional voice over artist. They were developed in a way that makes them easy to listen to.
Satisfaction GUARANTEED
We're so confident you'll get results that we guarantee it! In the unlikely event that you don't start to see results after 30 days of daily listening, we'll happily refund your money (within 60 days of purchase).
Buy now and download instantly
Get your discounted Hypnotherapy 3-Pack now. Just click the Add to Cart button below, and we'll securely process your order, so you can download and start listening instantly.