What is Junk Food Addiction
Are you bingeing on junk food regularly? Maybe it's the TV grazing, comfort eating, or late-night snacking that's getting out of control. If eating junk food is starting to feel like an addiction for you, you're probably not happy with the results. Compulsive eating of any food is likely to expand your waistline, but overindulging in unhealthy food will quickly show your complexion and energy levels, not to mention your cholesterol and blood glucose counts.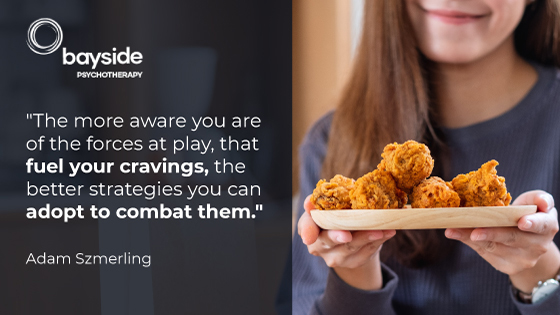 Many people inadvertently turn junk food into a reward or solace, leading to both an emotional addiction to overeating and physical cravings for sugar, salt and fat. The odd cheeky treat may seem harmless — but before long, you may feel powerless to stop. If that's the case for you, it might be time to seek professional help.
The trained therapists at Bayside Psychotherapy have experience treating all kinds of addiction and eating disorders. We can see you at the clinic in Highett, or you can book an online session for counselling from the comfort of your home.
We also recommend you download our targeted self-hypnosis MP3 recording for junk food addiction to complement your therapy. Whichever way you decide to get help, choosing to address your unhealthy relationship with junk food is the most crucial step.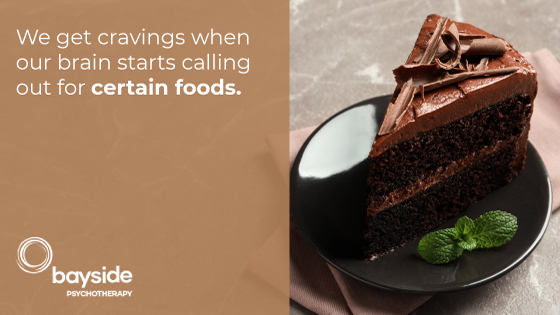 Set up your appointment or enquire by calling (03) 9557 9113. Your call is completely confidential, and there's absolutely no obligation.
If you know you're ready to start, you can book your initial session here.
Do you have any questions for us? Get in touch with us through our online contact form.
You can also book an appointment by using our online booking form for online appointments. Or, if you prefer, you can book an in-clinic session.
Self-hypnosis may also work well when used in conjunction with counselling. You can download our Junk Food Self Hypnosis recording from our website.
Junk Food Counselling – Frequently Asked Questions
What is Junk Food and How Is it Affecting Me?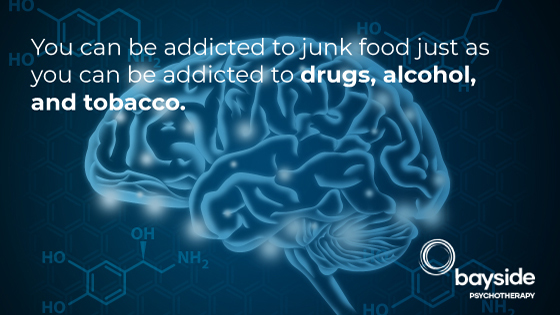 Junk Food is any food that is highly processed, high in calories and low in nutrients. Junk food is also usually high in added sugars, salt and saturated or trans fats. Some evidence points to junk foods as being as addictive as alcohol and drugs.
Eating a diet high in junk food is linked to a higher risk of obesity, depression, digestive issues, heart disease and stroke, type 2 diabetes, cancer, and early death. And as you might expect, frequency matters when it comes to the impact of junk food on your health. A review of studies on fast food and heart health found having fast food more than once a week was linked to a higher risk of obesity while eating fast food more than twice a week was associated with a higher risk of metabolic syndrome, type 2 diabetes and death from coronary heart disease.
Am I Addicted To Junk Food?
To be addicted means that you're unable to resist using or consuming something, despite the fact that it's doing you harm — to be dependent on an activity or substance for happiness or equilibrium. Food is a primaeval driver for any living thing. Because food can change our mood for the better, it can become something to rely on when we're stressed or anxious. And most people don't choose fruit or steamed vegetables for a quick boost. Eating large amounts of sugar and fat on a regular basis makes you crave more, which is easy to find in today's world of around the clock fast food.
But the sugar-laden sweets or take-away junk food most people turn to for comfort are bereft of nutritional value. The calories, sugar, salt, and trans-fat junk food does have will leave you overweight and listless, but still hungry. As the medical community never tires of repeating, there are many risks associated with obesity, such as heart disease, sore joints, diabetes, elevated blood pressure and increased probability of stroke. So this is not a trivial addiction.
Trying to derail a dependence on food alone often results in feelings of deprivation, withdrawal, and depression — it's very difficult to realign entrenched mental and metabolic patterns at the same time. Therapy may be what you need to establish healthier eating habits over the long term. What do you have to lose if you put off taking action?
How does Bayside Psychotherapy Treat Junk Food Addiction?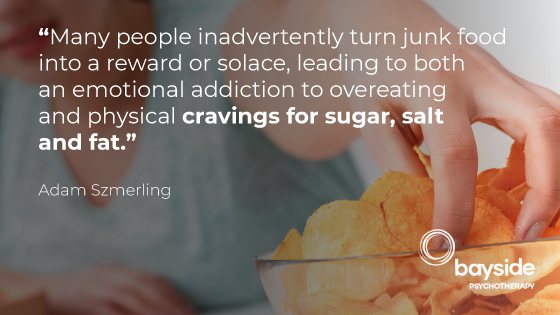 Our therapist's training and experience in a range of treatment methods enable us to tailor programs to individual clients' needs. After your initial consultation, your practitioner will devise a personalised program from one or a combination of approaches, which may include mindfulness training, psychoanalytic psychotherapy , hypnotherapy , neuro-linguistic programming (NLP) or cognitive behavioural therapy (CBT) , among others. Your therapist will evaluate your progress regularly in case your program needs to be tweaked. We can work with you in our Highett office, online, or a combination of the two.
How long does Junk Food Addiction Treatment take?
Treatment for junk food addiction can take effect quite quickly. Some people are able to change their habits after just a few therapy sessions, with techniques such as neuro-linguistic programming, which may help you change how you think about junk food and how you react to anxiety. Everyone has different underlying reasons for their compulsive behaviour, and some may need more time than others to investigate them thoroughly. The duration of your treatment will also depend on how willing you are to commit to therapy. We offer a safe and non-judgemental environment and skilled counsellors to maximise your chances of success. The rest is up to you
<! ––
––>
Note: Whilst we will do our best to assist you, we rely on your commitment to and participation in the treatment process to optimise results. Although some of our therapists work with people presenting with this condition, no guarantees of any outcomes can be made.
Here are a couple of blogs written on this topic you might find useful:
How To Develop Healthy Eating Habits
The Link Between Eating Disorders And Mental Health
Five Ways Hypnosis Can Help You Lose Weight
Time to start therapy?
03 9557 9113
Reception phone hours
8:30am – 5:30am
Monday – Friday
(closed on public holidays)
Choose your own date and time for an online or in-clinic session
Therapist Hours
Monday 8:00am to 8:00pm
Tuesday 8:30am to 8:00pm
Wednesday 8:30am to 8:00pm
Thursday 8:30am to 8:00pm
Friday 8:30am to 8:00pm
Saturday 8:00am to 6:00pm